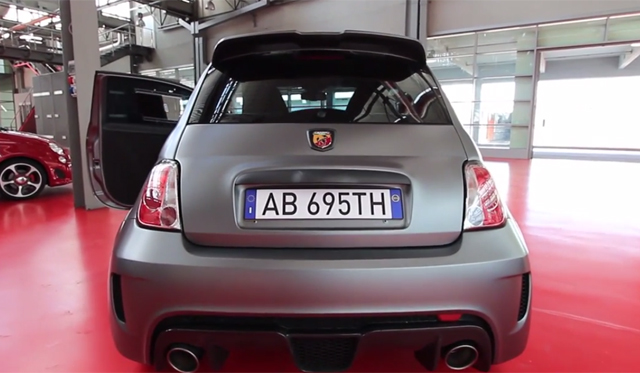 Ever since the second-generation Fiat 500 was presented back in 2007, Fiat and its in-house tuner, Abarth, have been creating special editions with more power and aerodynamic components to offer a more thrilling driving experience. The best launched to date is without a doubt the Abarth 696 Biposto!
[youtube]https://www.youtube.com/watch?v=oROsOtqsKuI[/youtube]
Under the hood, the Abarth 696 Biposto features a tiny 1.4-liter turbocharged engine. However, Abarth have managed to extract an extraordinary 187 hp from it. When combined with a kerb weight of just 997 kg, the 695 Biposto has a power to weight ratio of 1 hp per 5.2 kg. In the scheme of things, 187 doesn't sound like much but as the following video shows, the car sounds very impressive when being revved!
Alongside the potent engine, the Abarth 695 Biposto features a quick shift dog-ring sequential gearbox which is the first time in a car in this segment. Many racing cars and series around the world implement these transmissions as they enable for clutchless upshifting yet are much more involving than paddle shifters.
In terms of weight savings, the Abarth 695 Biposto doesn't feature any rear seats and instead a couple of stiff strut bars. Up front, you'll find carbon fiber seats with minimal padding as well as a lightweight dashboard incorporating carbon fiber. Additionally, there is no climate control or electric windows while new carbon fiber areas on the exterior along with lightweight 18-inch Oz alloy wheels help finish the weight savings.