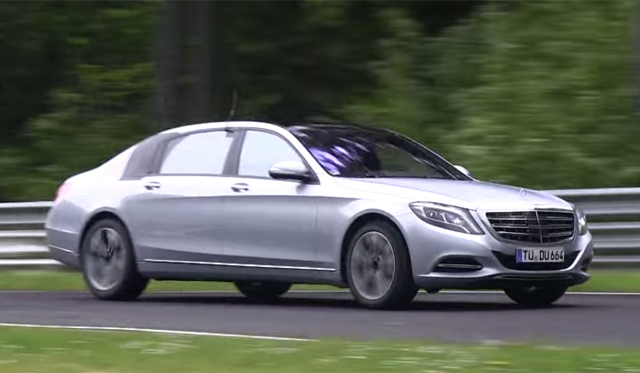 A car like the 2015 Mercedes-Benz S-Class Maybach is about as far as a car can get away from a track-tuned monster. Nevertheless, Mercedes-Benz was recently spotted testing a prototype at the Nurburgring even though in customer hand's, we can't see the car ever hitting a racetrack let alone the 'Ring!
The Mercedes-Benz S-Class Maybach will reportedly feature a 200 mm stretched wheelbase when compared to the regular S-Class and will be available in a host of specifications. Recently, the upcoming range-topping S 65 AMG Maybach was spied testing featuring all the same aggressive design features of the 'regular' S 65 AMG. Such features included new bumpers both front and rear and under the hood, the S 65 AMG Maybach will feature the same massive 6.0-liter V12 engine as the standard car delivering an absolutely mighty 630 hp.
[youtube]https://www.youtube.com/watch?v=F0NeuMQJLhk[/youtube]
With the first long-wheelbased S-Class likely to revive the Maybach name, it will have to prove itself worthy of that name. When it was still around a despite the exclusivity and high quality, Maybach failed to impress the public. Whereas British luxury manufacturers saw sales grow to record levels in recent years, sales by Maybach were very low. In 2010 Maybach sold just 200 cars compared to Rolls Royce's 2,700 and Bentley's 5,100.
Consequently, it was a no brainer for Mercedes-Benz to eventually pull the plug on the Maybach and end its production run. It is predicted the S-Class Maybach will retain the 2+2 seating layout of the current S-Class.
Further down the road, an even longer variant, speculated to be called the S-Class Pullman will be revealed featuring a 2+2+2 seating layout.