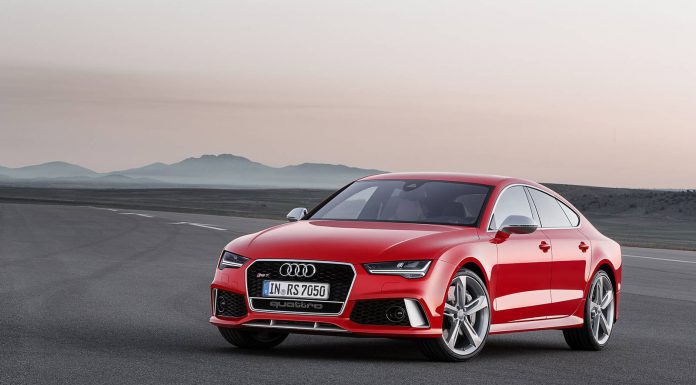 Just a couple weeks after unveiling the 2015 Audi A7 and S7 Sportback, the new 2015 Audi RS7 Sportback has been officially unveiled! While the changes in the 2015 RS 7 Sportback are relatively minor when viewed on their own, when all combined the new car takes on a whole new level of impressiveness.
From a visual standpoint, the 2015 Audi RS 7 Sportback carries many of the tweaked design traits from the new A7 and S7. Consequently, it receives a redesigned single-frame front grille with the typical RS black honeycomb pattern. Audi has now added aluminium matt, gloss black and carbon styling packages to give the new RS 7 Sportback that extra level of luxury and personalisation.
One of the most important aspects of the new Audi RS 7 Sportback is the availability of Audi's latest and greatest generation of Matrix LED technology in the headlights. Moreover, the taillights have been slightly tweaked with new colours Silver Metallic, Glacier White Metallic, Black Metallic myth and Sepang Blue now being available also. Additionally, the new 2015 Audi RS 7 Sportback has received a slightly more aggressive front bumper and consequently, looks just as brutal as it really is once the throttle is pinned.
The 4.0-litre TFSI twin-turbocharged V8 engine remains unchanged from the previous RS 7 Sportback. However, that's certainly no bad thing. It still manages to deliver 560 hp and 700 Nm of torque from 1750-5500 rpm. Consequently, the new RS 7 will sprint to 100 km/h from a standstill in a mere 3.9 seconds and when fitted with the top of the range dynamic package, can hit a top speed of 305 km/h. Despite the power and performance potential of this engine, it sips just 9.5-litres of fuel per 100 kilometres across the average cycle. A key reason why it is so efficient is due to cylinder-deactivation technology with half the cylinders shutting down when necessary.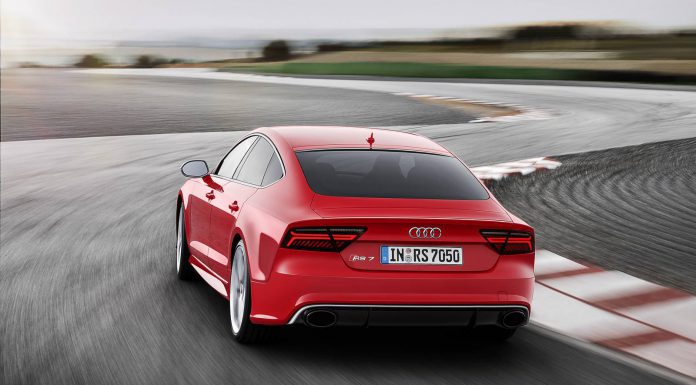 The engine is then mated to a sport tuned eight-speed tiptronic transmission driving all four-wheels via Audi's quattro all-wheel drive system. When compared to the latest Audi A7 Sportback and S7 Sportback, the new RS 7 features revised air suspension and consequently, sits 20 mm lower than before. Braking is provided by either internally ventilated steel discs with Audi's interesting wave design to save weight with carbon ceramic brakes being an option.
The 2015 Audi RS 7 Sportback will be available for purchase in Germany in the 3rd quarter of this year. It has a base price of 113,300 euros.