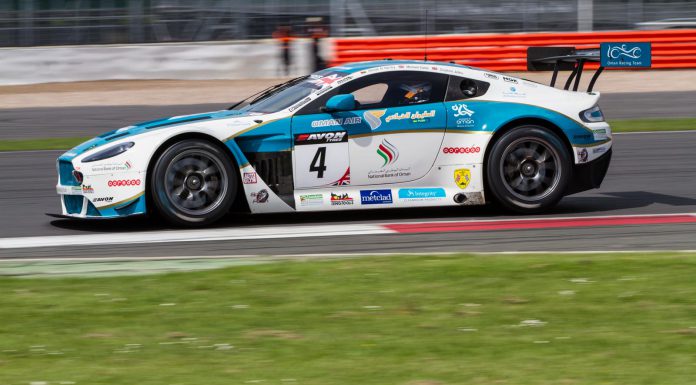 The British GT 500 round at Silverstone took place this weekend 31st May-1st June. The grid for this round saw a bumper entry list with nearly 40 cars registering for the round.
The first three hour race of the season looked to bring excitement to the already close season. The Championship was being lead by No 79 Ecurie Ecosse BMW followed by No 1 Beechdean Aston Martin and No 4 Oman Racing Aston Martin in third place.
Pole position for the GT3 race was set by Beechdean No 1 Aston Martin where Pro Driver Johnny Adam had set the fastest time of the qualifying session. The David Appleby Engineering Bentley was unable to start the race due to the car catching on fire on Saturday in free practice.
The start of the three hour race was full of drama with collisions left right and centre with cars colliding and being forced off track. Other racers had to ensure they avoided the Aston which had spun and was left mid track with nowhere to go until the traffic died down. Thirty-six cars started the race but only twenty-eight managed to take the chequered flag.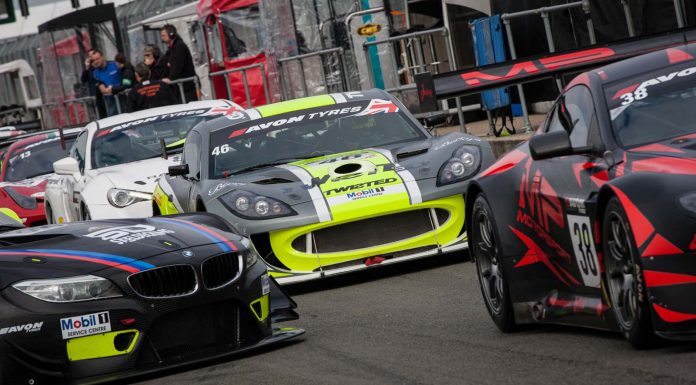 The win went to No 4 Oman Racing Aston driven by Ahmad Al Harthy and Michael Caine who had an astounding lead of 56 seconds ahead of No 1 Beechdean Aston Martin driven by Andrew Howard and Jonny Adam. The last step on the podium went to No 17 M Sport Bentley however due to contact in the last dying moments of the race they suffered a penalty and were relegated to fourth. The contact was with No 79 Ecurise Ecosse BMW who was running in third place and they were being chased down by the Bentley as the race drew to a close. As Steven Kane in the Bentley went for the overtake to take third position they clipped the end of the BMW resulting in them spinning off and having re-join and dropping down to fourth. Due to the penalty given to No 17 Bentley, the third place result was given to No 79 Ecurie Ecosse BMW.
The GT4 Class win went to No 46 Twisted Team Parker Ginetta G55 driven by Adrian Barwick and Bradley Ellis. This was their first win of the season and was well deserved as both drivers and the team performed well. Second place in the GT4 Class was taken by No 41 Optimum Ginetta which saw returning GT4 Champion Ryan Ratcliffe alongside his teammate Matt Parker. Ratcliffe's first race of the 2014 British GT season showcased why he won last year and was awarded the Mobil 1 Service Master of the weekend.
The Driver of the Weekend Blancpain Gentleman Trophy was presented to Andrew Howard No 1 Beechdean Driver.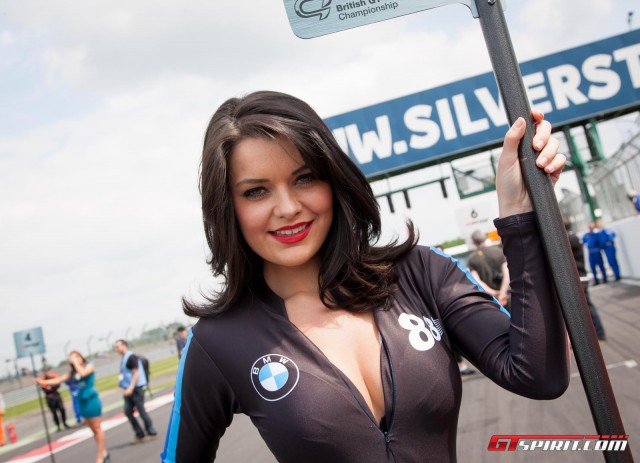 Michael Caine- No 4 Oman Racing said – "It's not often you get in a car with 40 minutes to go in the race and be told you have a 48 second lead! The team did fantastic with the pits and safety car. It played into our hands and Ahmad was lapping superbly and we made sure we brought the car home. We struggled a little in qualifying but the race pace of the car was good."
Andrew Howard- No 1 Beechdean said "We think we could have been on pace with the Oman Racing Team Aston Martin but we probably lost 40 seconds in the mix of it with the traffic and the safety car. They were 50 seconds up the road. It would have been close, but all credit to them for winning. Jonny Adam did really well today. He had a lot of pressure, he's used to it, but for any driver having Steven Kane and Alexander Sims steaming behind you is real pressure."