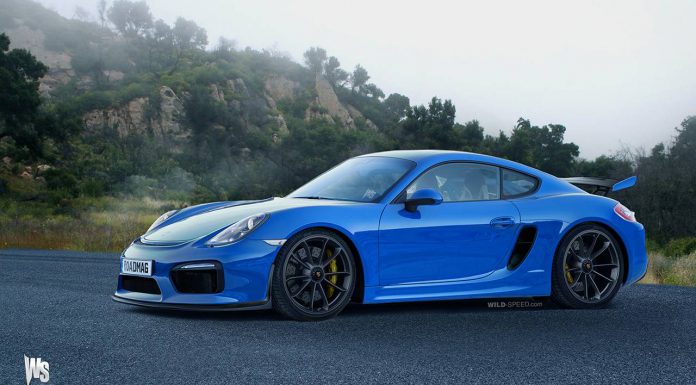 Following recent spyshots and spy videos, the potential Porsche Cayman GT4 is undeniably the most hotly anticipated Cayman variant ever. Promising epic performance as well as a host of visual and aerodynamic improvements, the car has everything going for it at this stage. In order to give us a good idea of how it could look, rendering extraordinaire Wild Speed has created the following rendering.
Just as prototypes have featured, the Cayman GT4 rendered here features a new front splitter, revised wheels and brakes, a prominent rear wing with colour matched endplates as well as a roll cage in the rear.
Porsche Cayman GTS and Boxster GTS

Many details about the car remain unclear and it isn't yet known if the Porsche Cayman GT4 will be based around the next-generation Cayman or simply the current car. Either way, Porsche has two powertrain options.
The first is an upgraded version of the flat-six engine currently utilised by the Cayman and Boxster and currently producing 340 hp in range-topping Cayman GTS specification. However, there is a possibility that the Porsche Cayman GT4, also likely to be offered in Boxster specification as the RS Spyder, will make use of an inline-4 cylinder turbocharged engine which could utilise a similar hybrid setup to the Porsche 919 Hybrid endurance racer.
It remains unclear just how much power the Porsche Cayman GT4/Porsche Boxster RS Spyder could produce but it could cost around $125,000 in the United States and feature a similar PDK transmission to the incredible one found in the 2014 Porsche 911 GT3.
[Via Wild Speed]