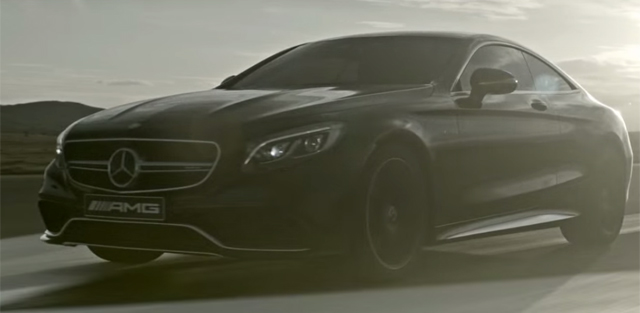 Mercedes-Benz has just revealed a new trailer for the stunning Mercedes-Benz S 63 AMG Coupe. As the two-minute long video shows, the S 63 AMG Coupe featured is finished in a stunning shade of black which we haven't seen before and when combined with the black wheels, the car looks even more impressive!
[youtube]https://www.youtube.com/watch?v=QOxr8j6WCmM#t=73[/youtube]
Replacing the CL63 AMG, the new Mercedes-Benz S 63 AMG Coupe is powered by a potent 5.5-liter twin-turbocharged V8 engine delivering 577 hp at 5,500 rpm as well as a brutal 664 lb-ft of torque at a low 2,240 rpm. To put this into comparison, this is a 40 hp increase over the CL63 AMG. The massive engine is then mated to a seven-speed Speedshift automatic transmission.
Interestingly, the new S 63 AMG Coupe can be ordered either in rear-wheel drive or all-wheel drive configurations in Europe but in the U.S., the car is only available with the 4Matic all-wheel drive system. As for the all-wheel drive version, 33 per cent of the power is sent to the front axle with the remaining 67 per cent going to the rear wheels.
Despite its very heavy weight of 1,995 kg, Mercedes-Benz claims that the S 63 AMG Coupe can hit 100 km/h from a standstill in a mere 3.9 seconds with the all-wheel drive system and reach the same mark as a RWD in 4.3 seconds. Both have an electronically limited top speed of 300 km/h. Either way, the power is transmitted to the road through tyres measuring 255/40R 20 at the front and 285/35R 20 at the rear.