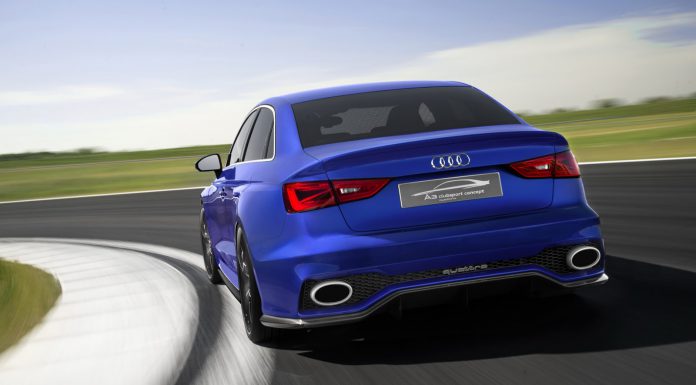 The Audi A3 Clubsport Quattro Concept is a car we never saw coming. However, we're extremely thankful that the German manufacturer did because the car is utterly insane and to celebrate the release, Audi has released additional photos and new videos of the car!
[youtube]https://www.youtube.com/watch?v=5JbJHaBlYhY#t=191[/youtube]
One of the most interesting components of the A3 Clubsport Quattro Concept which we didn't know existed until now, is its massive air brake which helps to bring the potent concept to an abrupt stop whenever necessary!
Under the hood, the Audi A3 Clubsport Quattro Concept is powered by a potent five-cylinder engine. Audi has managed to tune it up to an incredible 525 hp which means it delivers 211.7 hp per litre. When combined with a total kerb weight of 1527 kg, the Audi A3 Clubsport Quattro Concept has a powered to weight ratio of 2.9 kg/hp. Alongside the massive horsepower figure, the A3 Clubsport also produces 600 Nm of torque available from 2300 to 6000 rpm. Resulting, the car will hit 100 km/h in just 3.6 seconds and a top speed of 310 km/h!
[youtube]https://www.youtube.com/watch?v=KN3hTbHhn6w[/youtube]
This additional power and performance has been achieved thanks to a larger turbocharger with up to 1.5 bar of relative boost pressure as well as a modified intercooler. Additionally, the car receives a new performance air intake and exhaust system to give it an even more addictive growl than the S3 Sedan.