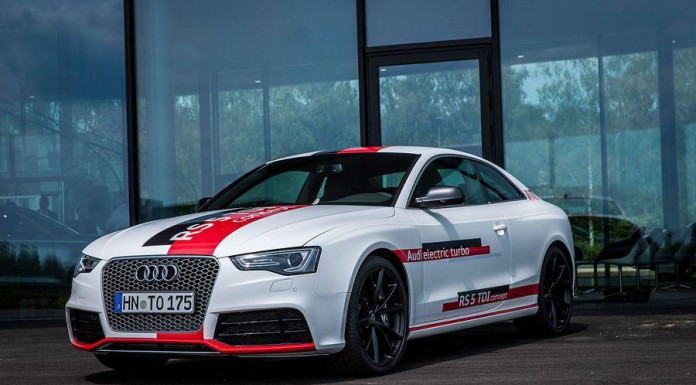 Audi has just taken the wraps off a very special RS5 concept to help celebrate the 25th anniversary of the company's TDI engine. Dubbed the Audi RS5 TDI Concept, the car ditches the typical 4.2-litre petrol V8 engine from the road-going RS5 in favour of a 3.0-litre twin-turbocharged V6 TDI.
This new engine manages to deliver around 380 hp but most impressively, a mega 553 lb-ft of torque. Helping to ensure that power is available as soon as the throttle pedal is depressed, the RS5 TDI Concept utilises an advanced electric compressor to eliminate all turbo lag by ensuring that the smaller of the two turbochargers, is always spolled up.
All of the power is sent to all four wheels via Audi's quattro system and an eight-speed automatic transmission. Consequently, Audi claims the RS5 TDI Concept will hit 100 km/h in just around 4 seconds and a top speed above 280 km/h (174 mph).
Of course, these figures aren't the be all and end all of the new concept. What is arguably even more impressive is the fact that the TDI Concept manages to consume less than 5 litres of diesel per 100 km over the average cycle.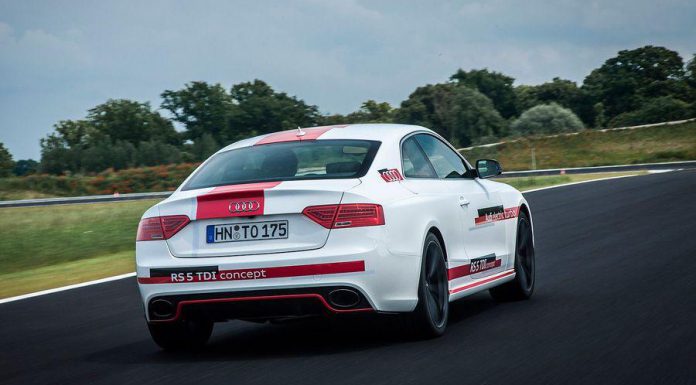 By comparison, the standard Audi RS5 produces just over 440 hp and 317 lb-ft of torque from its 4.2-litre V8 helping to send it to 100 km/h in 4.6 seconds and an electronically limited top speed of 250 km/h.