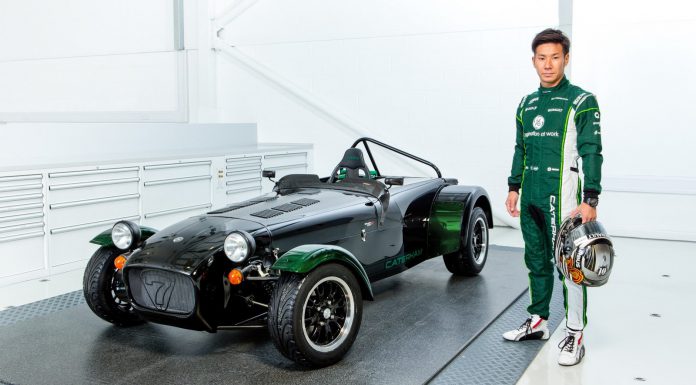 While he has only been a full-time Formula One driver for the Caterham F1 team for a few months, Japanese driver and fan favourite, Kamui Kobayashi has already had a special edition Caterham named after him. Dubbed the Caterham Seven Kamui Kobayashi Limited Edition, just 10 units will be made with all going to the Japanese market.
Based on the Caterham Seven 250 R, the Kamui Kobayashi Limited Edition includes a tiny 1.6-litre engine from the Ford Sigma producing 125 hp. This powertrain is mated to a six-speed manual transmission driving the rear wheels and helping the car to hit 100 km/h in just 5.9 seconds and a top speed of 196 km/h. A limited slip differential is also featured.
From a visual standpoint, the Caterham Seven Kamui Kobayashi Limited Edition is finished in a bright shade of gloss black while the wheel arches are finished in green tinted carbon fibre. Elsewhere, a host of bare gloss carbon fibre parts are present including the wing mirrors and small windshield. The green carbon fibre is carried into the cabin with the dashboard finished like this. Finally, the Caterham Seven Kamui Kobayashi Limited Edition features matte black racing stripes, 13-inch black wheels, a polished exhaust system and a removable aluminium cover over the passenger seat.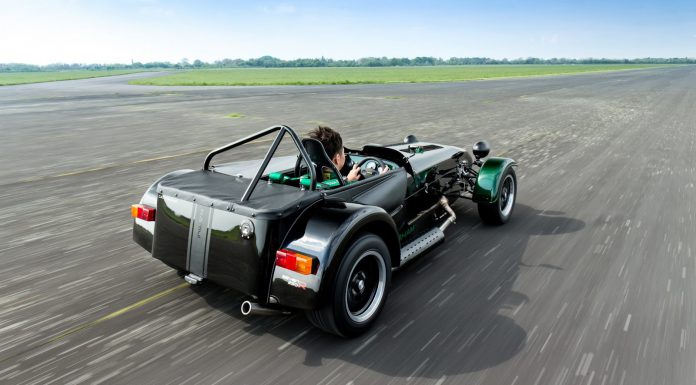 When discussing the car, Kobayashi said, "For me, the Caterham Seven is a pure car; when you drive a Seven it feels like you are driving, not like the car is driving you. In my Caterham F1 car, I have electronics that control everything but to drive the Seven is to truly understand the car and to truly understand the enjoyment of driving. I hope my styling of the Seven adds something special to a car that is already awesome to drive."