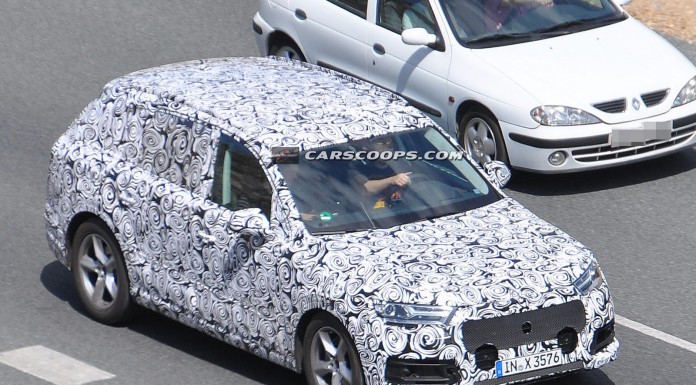 The upcoming next-generation, 2016 Audi Q7 has been spied testing again under heavy camouflage after first being snapped late last year.
First and foremost, the 2016 Audi Q7 will feature the Volkswagen Group's MLB structure which will also be utilised in the production-ready Bentley SUV, Lamborghini Urus and future Porsche Cayenne and Touareg models. Thanks to this extensive change, the 2015 Audi Q7 is expected to weigh at least 300 kg (660 pounds) less than the current car.
From this prototype, we can see that the 2016 Audi Q7 will feature a host of visual modifications including tweaked headlights and taillights, a redesigned front grille and front air intakes as well as modified bumpers both front and rear. This particular prototype also features new rectangular exhaust pipes.
Under the hood, the 2015 Audi Q7 will be available with a selection of different engines just like the current car. While such systems have yet to be confirmed, they're likely to include a twin-turbo V8 engine with upwards of 430 hp, a 3.0-liter TFSI V6 producing 310 hp and a selection of different diesel engines. These could include a 3.0-liter TDI V6 delivering 258 hp and a 4.2-liter V8 TDI with 385 hp. Additionally, a 2.0-litre four-cylinder turbo diesel with 240 hp is possible. Finally, a hybrid variant is also extremely likely.
[Via Carscoops]