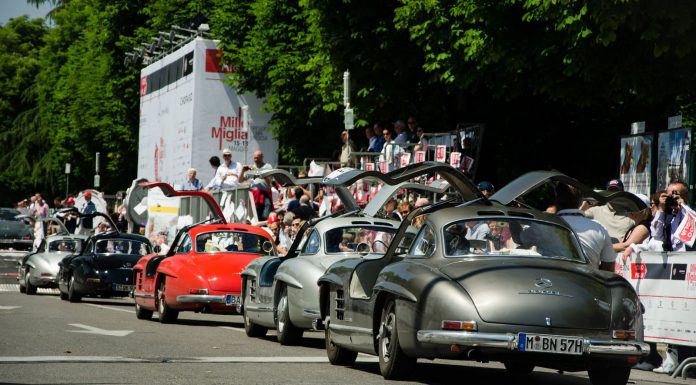 The annual Mille Miglia road race would be nothing without history's oldest automaker, Mercedes-Benz. The company won the race in 1931 when Rudolf Caracciola and Wilhelm Sebastian crossed the finish line in their Mercedes-Benz SSK and again in 1955 when the famous duo of Sterling Moss and Denis Jenkinson drove a Mercedes-Benz 300 SLR to victory. This year, Mercedes-Benz returned to follow the same 1000-mile route those legendary racers did, from Brescia to Rome and back. We were there to celebrate with them!
Today, the Mille Miglia is less of a road race and more of a safe re-enactment. Participants pass through cities such as Verona, Ferrara and San Marino on their way to Rome, at which point they turn around to make the journey back to Brescia. The exclusive event is only open to vehicle models that took part in the original race and to other racing cars and production sports cars. Mercedes, being one of the main sponsors of the event, made a special point of having a strong presence at the Mille Miglia and brought along multiple models spanning many different eras.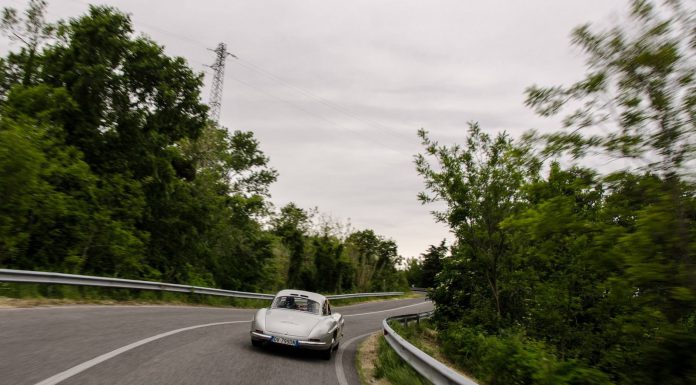 One of the more recognizable models from the Mercedes-Benz Mille Miglia lineup is the W198 300SL "Gullwing". As you may know, this was one of the fastest production cars of its day, able to achieve up to 160 mph thanks in part to its powerful inline-six cylinder engine. Today they sell from anywhere between $700,000 – $1,000,000 US, so seeing this many in action on the Mille Miglia is certainly a treat.
Mercedes-Benz also brought along two older models, the road-going version of the 1930 SS 27 and also the road-going version of the 1928 SSK 27. Both cars were supercharged, making them extremely advanced for their time and also very competitive. The SS 27 won Mercedes-Benz the Mille Miglia race in 1931 and the SSK also had many racing triumphs.
We would like to thank Mercedes-Benz for hosting us and we look forward to the next time we get to participate in this incredible historic re-enactment!