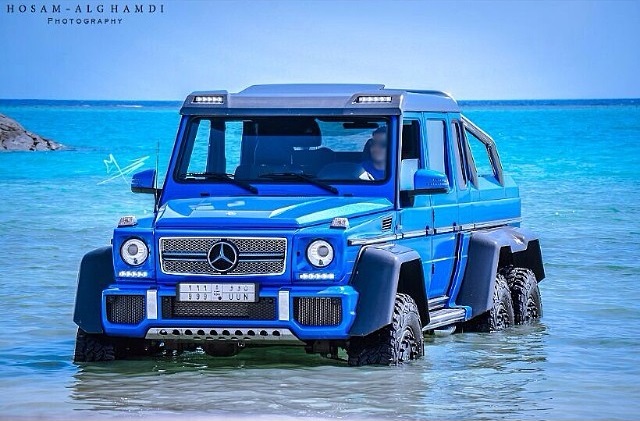 The Mercedes-Benz G 63 AMG 6×6 is arguably the most capable off roader available to the public. Of course, with its price tag of above $500,000, it is only affordable to the world's wealthiest individuals many of whom come from Saudi Arabia where this G 63 AMG 6×6 was recently delivered.
What makes this particular G 63 AMG 6×6 very unique is its bright blue paint job which looks perfect alongside the black wheel arches and roof. What's more, it looks perfectly at home while sunbaking in the bright blue waters of the Red Sea!
In case you didn't know, car gets its origins form the C320 CDI developed specifically for the Australian army recently and measures an incredible 5867 mm long, 2111 mm wide and 2209 mm tall. What these figures mean is that the Mercedes-Benz G63 6×6 is an impressive 43.5 inches longer than the standard car, and once seeing the car in action, it's little wonder why the extra two wheels add so much length.
Whereas the military version only features a 3.0-liter diesel engine, this unit which is available to anyone rich enough in the public is fitted with the G63 AMG's 5.5-liter bi-turbo V8 engine pumping out 536 hp and 560 lb-ft of torque. This engine is then mated to a seven-speed 7G-tronic transmission driving all six wheels.
[Via ksaloverksa]