With Mercedes-Benz set to reveal a convertible variant of its latest-generation C 63 AMG as well as the M4 Convertible already revealed, it certainly seems likely that Audi will do the same with the next RS3. In order to give us an idea of how an Audi RS3 Cabriolet would look, Theophilus Chin has created the following renderings.
Incorporating many of the awesome design elements from the recent Audi A3 Clubsport Quattro Concept, the RS3 Cabriolet rendered here really looks the business. It incorporates an extremely aggressive front bumper with prominent black air intakes surrounds and a black front splitter. At the rear, the A3 Clubsport Quattro Concept inspiration continues with a large bootlid spoiler and more pronounced rear diffuser.
Under the hood, the new RS3 will feature a potent 2.5-liter five-cylinder turbocharged engine delivering a total of 367 hp. This powerful forced induction engine will then drive all four wheels through the quattro all-wheel drive system via Audi's latest S tronic transmission. By comparison, the previous-generation Audi RS3 features a 2.5-liter turbocharged five-cylinder delivering 335 hp helping it to hit 100 km/h in a mere 4.6 seconds.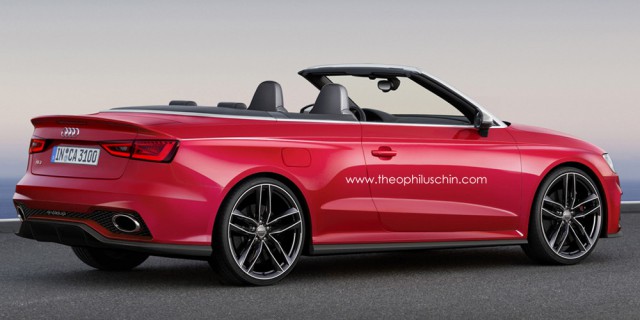 Alongside the new Audi RS3, it is reported that it could be available with a dynamic package. This dynamic package will likely add some handling improvements as well as some visual tweaks.
Will Audi make an RS3 Cabriolet? That remains to be seen but we certainly hope so!
[Via Theophilus Chin]