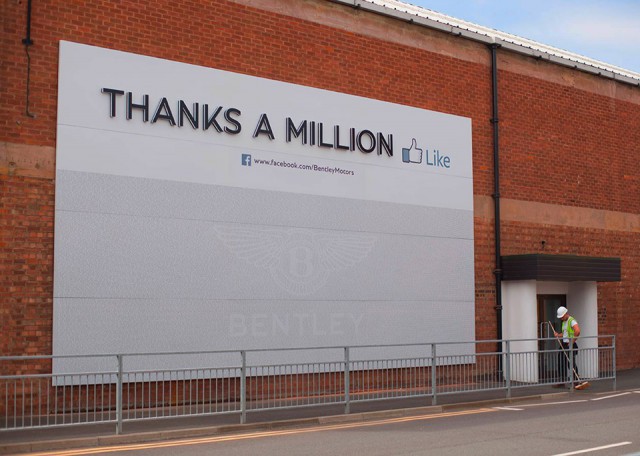 To celebrate the company's success on Facebook, Bentley unveiled a Facebook Fan Wall painted onto the exterior of its factory in Crewe! Bentley currently has 1.6 million 'likes' on its Facebook page. Back in September last year, when they were celebrating reaching the 1 million mark, Bentley announced that they would offer fans the opportunity to put their names on a physical wall at the Bentley factory.
Since September, fans had been able to submit their profile photo to add to the Bentley Facebook Fan Wall. The sign has now officially been unveiled. Measuring 10,000mm x 5,500mm and made of aluminium, the sign features the word 'Thanks a Million' in large text.
The fan wall adorns Bentley's main build hall which is where the Bentley Mulsanne, Continental and Flying Spur are produced. The hold Bentley Facebook Fan Wall features 25,000 names, if you are one of the lucky few who got their picture included, the page now includes the ability to zoom into the wall and locate your own unique part.