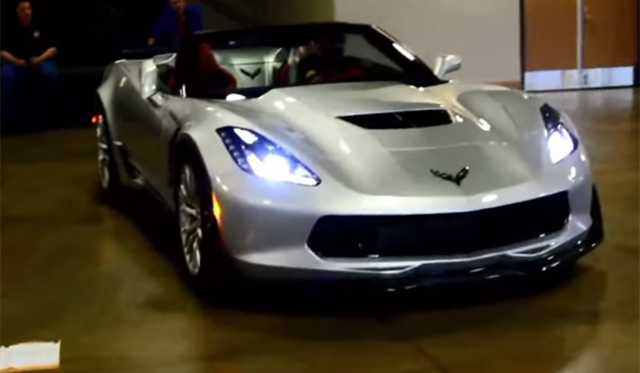 Whereas the latest Chevrolet Corvette Z06 is the ultimate expression of raw, unadulterated power in the Corvette line-up, the Z06 Convertible is the even more eye-catching and stylish of the two and will undoubtedly be popular among customers. Filmed here starting up, the supercharged V8 sounds incredible at idle!
[youtube]https://www.youtube.com/watch?v=QsNJZonuMNY[/youtube]
Beneath the skin, the Chevrolet Corvette Z06 Convertible features the same new LT4 6.2-liter supercharged V8 engine delivering at least 625 hp and 645 lb-ft of torque. Just like the regular Corvette Stingray and Z06, the Z06 Convertible also utilises direct injection, Active Fuel Management (cylinder deactivation) and continuously variable valve timing.
However, the most impressive feature about the 2015 Chevrolet Corvette Z06 Convertible is its light curb weight. Traditionally, convertibles weigh significantly more than their coupe counterparts. Just look at the new M4 Convertible for example. It weighs over 250 kg more than the M4 Coupe! However, Chevrolet claims that the Z06 Convertible's curb weight is nearly identical to the coupe and that compared to the C6 Z06 Coupe, the aluminium structure of the Z06 Convertible is actually 20 per cent stiffer. The roof can be opened and close at speeds of up to 50 km/h.
Aerodynamically speaking, the new 2015 Chevrolet Corvette Z06 Convertible features the same host of upgrades present on the Z06 Coupe. This display car is fitted with the optional Z07 package which adds a massive carbon fiber front splitter and larger carbon ceramic-matrix brake discs which collectively save 23 pounds over the standard discs.