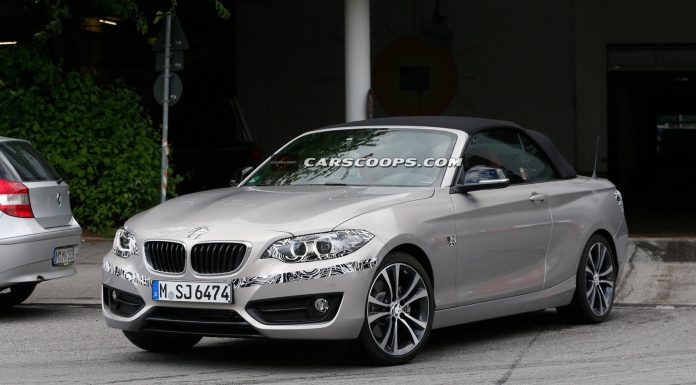 Expected to be offered in the same trim levels as its coupe brother, the upcoming BMW 2-Series Cabriolet will act as the perfect, compact, convertible sports car from the BMW range. Now new spyshots have emerged of another prototype undergoing testing wearing minimal camouflage.
Unlike previous prototypes spied testing including an M235i Cabriolet, this one features less aggressive bumpers as well as more stylish and less sport focused wheels and brakes. Besides the M235i Cabriolet, the 2-Series droptop will be available in a host of different specifications.
Other versions are likely to include the 228i Cabriolet, 220i and 220d. Additionally, an all-wheel drive version of the 228i is likely with it being dubbed the 228xi Cabriolet.
If you're in check with the latest rumours regarding the 2-Series, there is a very strong possibility that an M2 variant is being produced, likely to deliver around 380 hp. While BMW has yet to confirm the existence of such a car, it is speculated that the 2016 BMW M2 will debut next year and be powered by an uprated variant of the 3.0-liter, twin-turbocharged inline-six cylinder engine found in the M235i which it itself produces an impressive 322 hp.
Considering that BMW launched an M4 Convertible just a few months after the M4 Coupe, we expect the same story for a possible M2 Cabriolet.
[Via Carscoops]