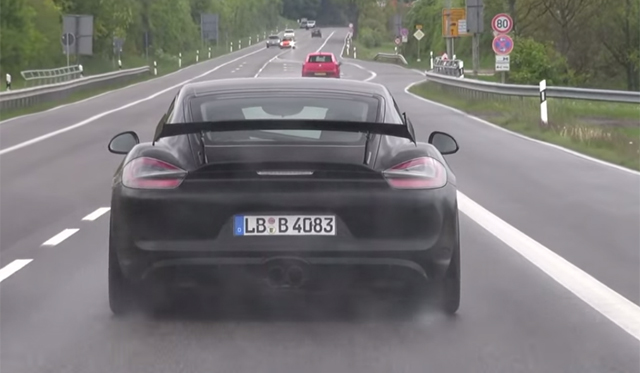 Just after the first spyshots of it emerged, the upcoming Porsche Cayman GT4 has been filmed testing on the wet circuits around Germany's Nurburgring!
[youtube]https://www.youtube.com/watch?v=bLIPC9_jW6I#t=261[/youtube]
Throughout the video, the Cayman prototype can be seen cruising around some beautiful German roads and even though the driver doesn't pin the throttle so we can hear the engine and exhaust growl, this is a video well worth watching!
Details about the car remain unclear and it isn't yet known if the Porsche Cayman GT4 will be based around the next-generation Cayman or simply the current car. Either way, Porsche has two powertrain options. The first is an upgraded version of the flat-six engine currently utilised by the Cayman and Boxster and currently producing 340 hp in range-topping Cayman GTS specification. However, there is a possibility that the Porsche Cayman GT4, also likely to be offered in Boxster specification as the RS Spyder, will make use of an inline-4 cylinder turbocharged engine which could utilise a similar hybrid setup to the Porsche 919 Hybrid endurance racer.
Alongside the power upgrades, this prototype is sporting an aggressive front splitter as well as a prominent rear wing. Elsewhere, the cabin is likely to be stripped out to reduce weight and make the Porsche Cayman GT4 the perfect mid-engined sub-400 horsepower sports car! Finally, a roll cage can be seen fitted into this prototype.