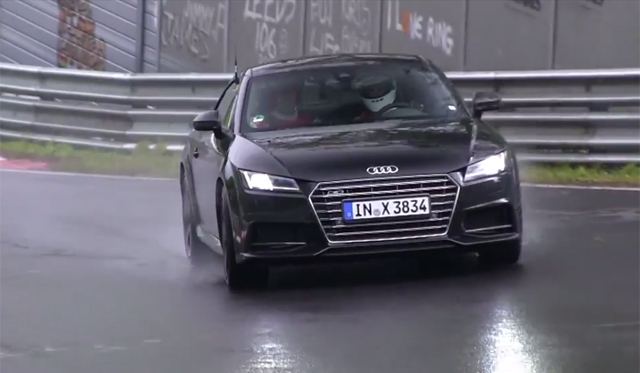 Prior to dealer deliveries of the 2015 Audi TT and TTS beginning later this year, Audi is continuing to test its latest sports car on the famous Nurburgring. Touriclips recently filmed a selection of Audi TTS prototypes hitting the track despite very tricky conditions!
[youtube]https://www.youtube.com/watch?v=JxIbqaW8KKk#t=55[/youtube]
In case you didn't know, Audi is offering the new TT and TTS with three different four-cylinder engines each featuring turbocharging and direct injection to help both performance and efficiency. Their power outputs range from 184 hp to 310 hp in the TTS. The two TFSI petrol engines and the TDI Diesels combine athletic power with trailblazing efficiency. The start-stop system is a standard feature.
Each engine can be linked to either automatic or manual transmissions with the 2.0 TDI only available in front-wheel-drive. We are more interested in the Quattro cars and the TTS! Complete with launch control it covers the standard sprint in 4.7 seconds; its top speed is electronically governed at 250 km/h. The 2.0 TFSI produces 380 Nm of torque between 1,800 and 5,700 rpm. Controllable flaps in the exhaust system modulate the sporty sound and make it even fruitier. Stay tuned as we will have all the latest news on the TT.
Visually, the third generation of TT emphasises and extenuates the strong lines and angles of the sports coupe. The front of the new TT is characterised by horizontal lines. The Singleframe grille is much broader and flatter than that of the previous model, with a powerful line dividing it into two zones.