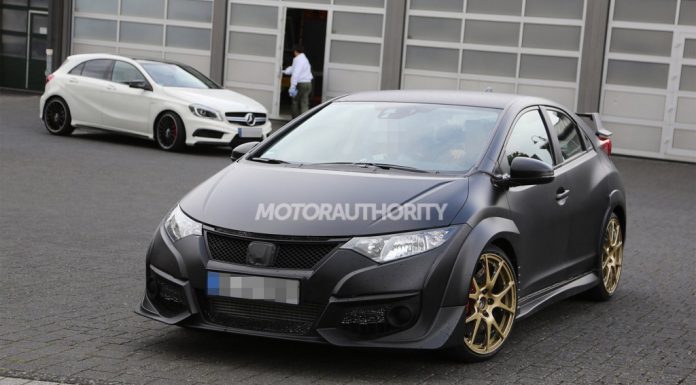 Honda is continuing tests of its long-awaited 2015 Honda Civic Type R and the latest spy shots show it being benchmarked against the potent Mercedes-Benz A 45 AMG.
While this prototype is wearing absolutely no camouflage, this doesn't mean the final design will be identical to this test car. As a matter of fact, Honda unveiled the Type R Concept at the Geneva Motor Show featuring a host of aggressive styling changes.
Visually, the Honda Civic Type R Concept is about as aggressive as a hot hatch can be. At the front, it features the same standard design as the standard Honda Civic, however, includes brand new LED headlights, a black panel below the front grille as well as a large splitter stretching around to the front tyres. The car also features new sports wheels, new wing mirror caps and side skirts.
The most prominent change at the back of the concept compared to previous prototypes with it featuring a futuristic taillights design stretching along the massive rear wing. Additionally, the car features widened wheel arches up front and at the rear as well as an aggressive rear diffuser and quad exhaust pipes.
Of course, the most crucial aspect of a hot hatch like the latest Civic Type is its powertrain. It will be powered by a brand new 2.0-litre four-cylinder VTEC turbocharged engine tuned to deliver over 280 hp. However, considering that Honda is benchmarking it against the 355 hp A 45 AMG, it is very likely that power will edge above 300 hp!
[Via Motor Authority]