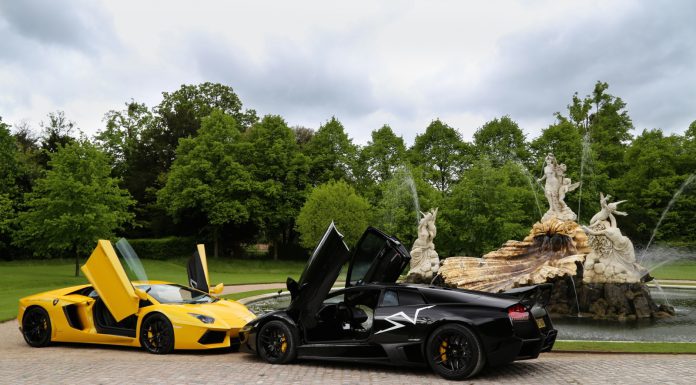 Lamborghini is a marque that is known for its flamboyance, charisma and Italian flare. One car that was known to embody these characteristics is the Murcielago SV. Featuring a modified 6.5-liter V12 engine pumping out an insane 662 hp, the Lamborghini Murcielago LP670-4 SV can hit 100 km/h in just 3.2 seconds. While the acceleration capabilities of the Murcielago SV are indeed impressive, it's exhaust note is arguably even more extreme. Its brawler speed and aggression is matched with the cars looks.
Todays Photo Of The Day features a black SV as well as the Murcielago's replacement, the Aventador. The Aventador features a new 6.5 liter V12 engine that produces 700 hp at 8,250 rpm and 690 Nm of torque at 5,500 rpm. Using thrust mode – Lamborghini's version of launch control – allows you to reach 100 km/h in less than three seconds, 2.9 to be precise and 0-200 km/h is done in a staggering 8.9 seconds flat. In the right environment you will keep accelerating all the way up to 351 km/h and pull 1.3 G when braking from 100-0 km/h. Phenomenal figures indeed!
The question is, which one would you choose, the Giallo Aventador or the Nero SV?
This spectacular image was captured by Pure Power Photography.