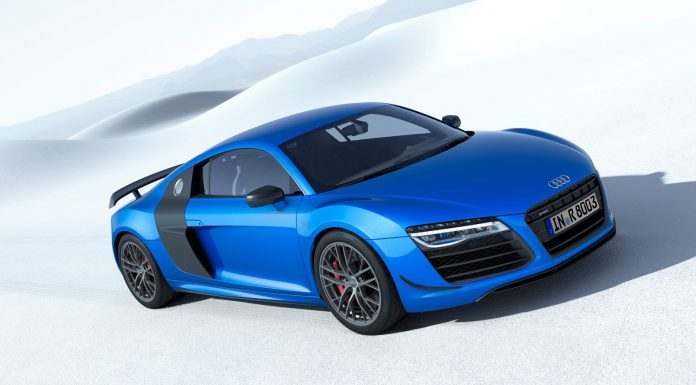 Audi has officially pulled the wraps off of the latest limited edition run of the Audi R8 supercar, the R8 LMX, which the automaker says is the first production car in the world to come equipped with laser high beam headlights. How's that for futuristic?
Audi has set a precedent, leading the way when it comes to conquering the darkness. The R8 was the first car to boast all-LED headlights way back in 2008, which was followed up in 2013 when the R8 adopted special Matrix LED headlights. Now with the LMX and its laser high beams, which increase the line of sight dramatically, the Ingolstadt-based automaker is taking another shot at brightening up the night.
The LMX uses one laser module per headlight, which Audi says can generate a cone of light reaching twice as far as a standard all-LED headlight. The technology, like so much of today's road car advancements, is pulled from racing applications. The same combination of LED and laser high beams will be used on the new Audi R18 e‑tron quattro at the 24 Hours of Le Mans later this year.
Apart from the headlights, the LMX offers all of the good bits from the standard Audi R8. You get a 5.2-liter V10 engine producing 570 horsepower and 398 lb-ft of torque, a seven-speed S-tronic transmission, carbon ceramic brakes with red anodized calipers and Audi's Quattro permanent all-wheel drive system. The LMX also receives a special carbon-fibre spoiler, front lip, rear diffuser and side strakes along with high-gloss black tailpipes.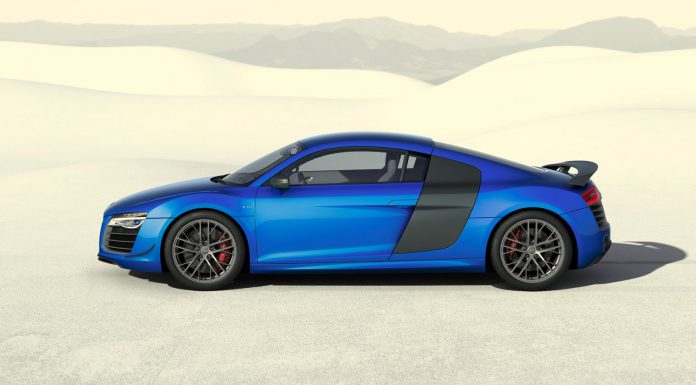 The LMX is also offered with a model exclusive Ara Blue crystal-effect paint finish. Inside, the black interior features bucket seats with matching blue diamond-pattern inserts, blue stitching on the parking brake, steering wheel and center console and a black Alcantara headliner. Other interior appointments include a matte carbon finish on the center console and parking brake lever and illuminated aluminum inlays in the door jambs which display the limited-edition number of the car.
The Audi R8 LMX can be ordered now and will officially go on sale this summer with a base price of €210,000 in Germany. If you want one, you'd better act fast, as only 99 units will be made.