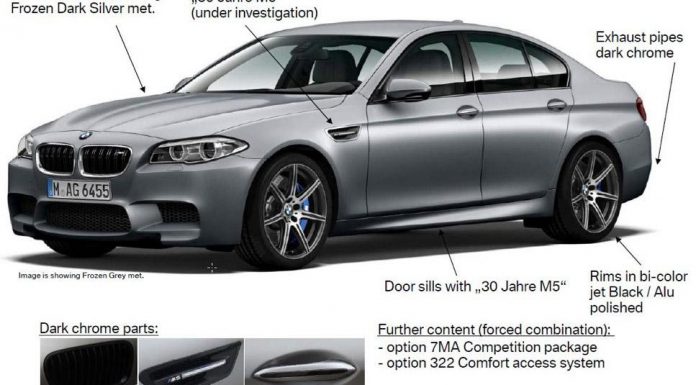 Next year will mark the 30th anniversary of the very first generation BMW M5 in the form of the E28 M5. In order to mark the occasion, the German firm is creating a 30th anniversary edition of the current M5 and now the very first images and details about the car have leaked online.
The following images are said to have leaked from an official online brochure and showcase a host of changes for the BMW M5 30th Anniversary Edition. Most prominently, the car will see an increase in power up to 592 hp and 516 lb-ft of torque. This represents an extra 39 hp and 14 lb-ft over the standard M5 and when mated to BMW's epic seven-speed M Double Clutch transmission, the M5 30th Anniversary Edition should hit 100 km/h from a standstill in less than 4.4 seconds.
Alongside the performance improvements, the car also includes some styling tweaks. This particular example is finished in Frozen Dark Silver Metallic and features new dark chrome exhaust tips, jet black 20-inch alloy wheels as well as darkened chrome trim across the exterior including the door handles. In the cabin, the BMW M5 30th Anniversary Edition will reportedly receive seats finished in alcantara and Merino leather as well as special badges.
According to the latest word, the car could debut at either the M Festival next month or the Goodwood Festival of Speed in late June.