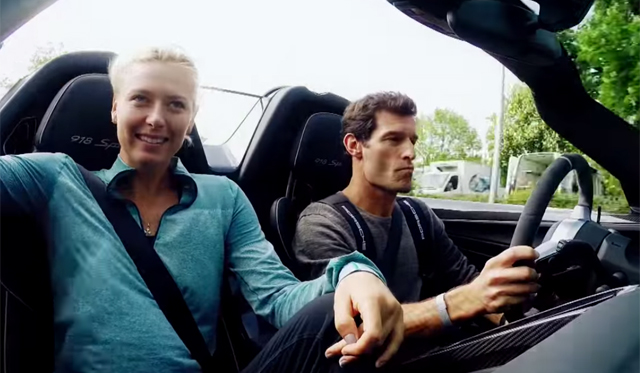 While racing at Infiniti Red Bull Racing in Formula One, the best car Mark Webber was given free reign over was an Infiniti M37. By comparison, drivers from Ferrari, McLaren and Mercedes have the opportunity to let loose in some of the world's fastest road cars without actually purchasing them.
[youtube]https://www.youtube.com/watch?v=qZXcI1fJmvM[/youtube]
However since moving to Porsche for the World Endurance Championship this season, Webber is enjoying all the perks that comes with racing for such an incredible firm like driving the Porsche 918 Spyder Weissach!
Recently, Webber was handed the keys to the stunning white 918 Spyder with tennis ace Maria Sharapova, currently one of Porsche's ambassador, in the passenger seat!
Towards the end of the video, Webber reveals that he is very tempted to get a 918 Spyder for his own personal collection. With a Porsche 911 GT2 RS and 911 GT3 RS 4.0 already in his garage, we say a 918 would make the perfect addition for Webber!
As you probably know by now, the Porsche 918 Spyder comes fitted with a mid-mounted 4.6-litre V8 engine producing 608 hp independently – the highest specific power of any naturally aspirated Porsche engine. The V8 is then supplemented by a further two electric motors mounted on each axle.
The electric motors can either drive the wheels independently or work together with the engine to boost performance. Each motor produces enough power to boost the total figure of 887 hp. A seven-speed Porsche Doppelkupplung (PDK) controls power delivery to the rear wheels.