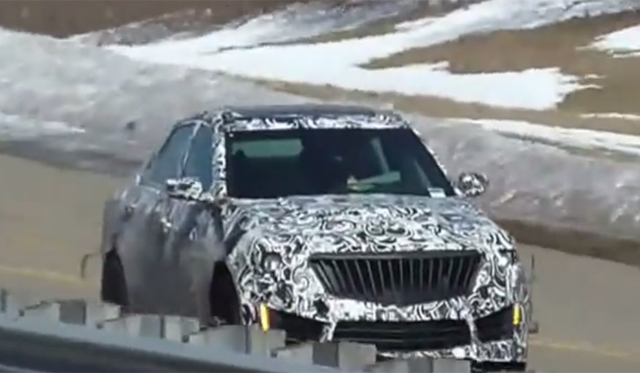 The upcoming 2015 Cadillac CTS-V has been filmed undergoing secret testing for the very first time thus giving us our first chance to listen to its brand new supercharged V8 engine!
If current reports are correct, this supercharged V8 engine will actually be the massive 6.2-liter unit which recently debuted on the latest Chevrolet Corvette Z06. This brutal engine will be inevitably tweaked for the CTS-V but is still tipped to produce in excess of 600 hp. As a result of this, the 2015 Cadillac CTS-V could conceivably deliver 50 hp more than the previous-gen car which delivered 556 hp and 551 lb-ft of torque. Such figures will put it yards ahead of rivals like the M5 and E 63 AMG.
[youtube]https://www.youtube.com/watch?v=YKNmn02MaCg#t=53[/youtube]
While this prototype as well as others previously spotted have all been wearing camouflage, a host of styling and aerodynamic changes will be featured. Such changes will include flared wheel arches, a new front grille, air intakes, bumpers front and rear as well as new quad-exhaust pipes. As for the new grille, it can be seen finished in matte black on the prototype and features vertical slates. It is currently unclear if this design will make it into production.
It isn't yet known when the new CTS-V will debut, but an appearance later this year is possible.