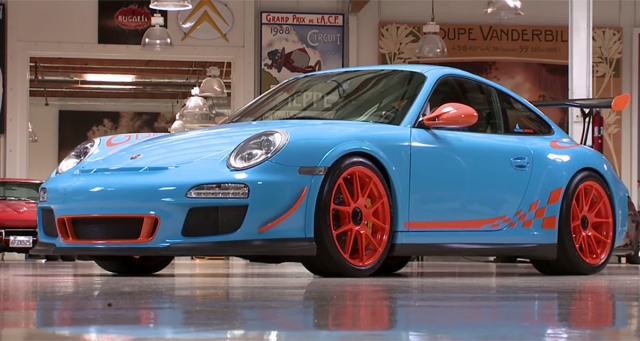 We're used to Jay Leno driving the very best brand new supercars and sports cars from factories all around the world. What we rarely seen is the former late-night TV host and comedian driving sports cars from aftermarket tuners. However, in the latest episode he does just that and for good reason.
Leno had the chance to get behind the wheel of the incredible Porsche 911 997.2 GT3 RS 4.1 created by SharkWerks. We've featured this car numerous times on GTspirit and as the name suggests, its engine has been stroked from the standard 3.8-liter capacity up to 4.1-liters.
[youtube]https://www.youtube.com/watch?v=k7DjqGUKiao[/youtube]
Additionally, it features EVOMs headers, SharkWerks pulleys, EVOMS/SharkWerks race spec lightweight billet crank, a new forged piston kit, EVOMS forged rods, intake, exhaust cam shafts, SharkWerks Hammerhead heads, RS 4.0 clutch pack as well as Forgeline GA1-R monoblock wheels and RSS/SharkWerks suspension arms/links.
With all these modifications accounted for, this Porsche 911 GT3 RS produces an incredible 542 hp and 400 lb-ft of torque. To put those figures into perspective, the standard 997.2 GT3 RS produces 444 hp and 317 lb-ft of torque. Additionally, the redline has been increased from 8,500 rpm up to a screaming 8,800 rpm!
Alongside the performance modifications, this GT3 RS features a bright Riviera Blue and orange colour scheme!