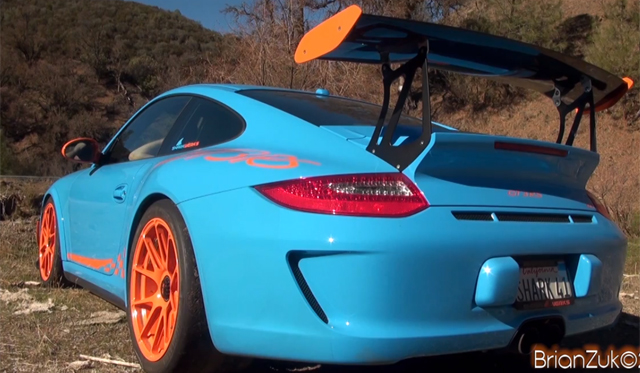 SharkWerks is unquestionably a leader when it comes to creating aftermarket exhaust systems for all Porsche 911 models. Whether the customer is after additional power or simply a louder exhaust note, SharkWerks offers a host of different options which are sure to thrill and excite. This Porsche 911 GT3 RS project is definitely one of their most impressive.
Initially, your eyes will be drawn straight to the Riviera Blue and Orange paint scheme making this 997.2 GT3 RS just 1 of 3 finished similarly. Of course, it also features a SharkWerks exhaust. However, there's much more to the story than that.
[youtube]http://www.youtube.com/watch?v=cjciFf_AZwM[/youtube]
The engine has been stroked from its standard 3.8-liter displacement to 4.1-liters. Additionally, it features EVOMs headers, SharkWerks pulleys, EVOMS/SharkWerks race spec lightweight billet crank, a new forged piston kit, EVOMS forged rods, intake, exhaust cam shafts, SharkWerks Hammerhead heads, RS 4.0 clutch pack as well as Forgeline GA1-R monoblock wheels and RSS/SharkWerks suspension arms/links.
With all these modifications accounted for, this Porsche 911 GT3 RS produces an incredible 542 hp and 400 lb-ft of torque. To put those figures into perspective, the standard 997.2 GT3 RS produces 444 hp and 317 lb-ft of torque. Additionally, the redline has been increased from 8,500 rpm up to a screaming 8,800 rpm!