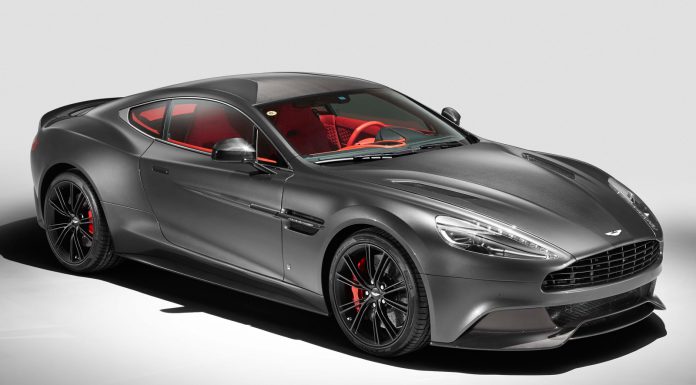 At the recent Beijing Motor Show 2014, Aston Martin unveiled an awesome Vanquish and Rapide S transformed through Q by Aston Martin, the company's bespoke service.
Q by Aston Martin is similar to Lamborghini's Ad Personam program where customers can customise their car's before delivery to really make them stand out. The Aston Martin Vanquish and Rapide S presented at Beijing certainly did this.
Starting with the Vanquish, it has been finished in a stunning shade of silver. What distinguishes it however, is the prominent bare carbon fiber stripe running across the bonnet, roof and then across the rear hatch. Furthermore, this Vanquish created by Q by Aston Martin features a host of exposed carbon fiber parts including the side air vents and front splitter. In the cabin, red and black leather is featured prominently to really make sure this Vanquish pops!
As for the Rapide S, it has been finished in a shade dubbed Divine Red. The dark shade has a really unique sparkle to it and looks really elegant alongside the tightly spoked silver wheels. In the cabin, the Rapide S by Q by Aston Martin features leather finished in a shade dubbed Espresso which includes a very eye-catching metallic finish! It also features luxurious wool floor mats.