The Audi TT Allroad Concept enjoys its world premiere here at the Beijing Motor Show 2014. This particular concept previews one possible model variant that could stem from the new Audi TT platform. Perhaps this previews the much anticipated Audi Q4? We took a closer look and shot these live photos!
The Audi TT Allroad Concept features some pretty awesome technology. Not least is the hybrid drivetrain. A 2.0 litre TFSI engine, coupled with a front mounted generator electric motor and a rear mounted electric motor provide the power. Together the entire platform is said to produce 408 hp and 650 Nm of torque.
The show car accelerates from 0 to 100 km/h in 5.2 seconds and reaches an electronically governed top speed of 250 km/h (155.3 mph) without any trouble. It is able to travel 50 kilometres solely on electric power and with zero emissions. Audi states the total range as being up to 880 kilometers (546.8 miles).
Some of the coolest technological features are hidden. Intersection assistant aims to help to avoid side impact collisions by using radar sensors and a wide-angle video camera scan zones at the front and sides of the car. More interestingly, online traffic light information is a technology that connects the Audi TT Offroad Concept via a mobile phone network to the central traffic computer, which controls the traffic light systems in the city. Based on the information from this system, the Audi virtual cockpit shows the driver what speed to drive in order to reach the next traffic light while it is green. The cockpit displays the time remaining when waiting for the light to turn green.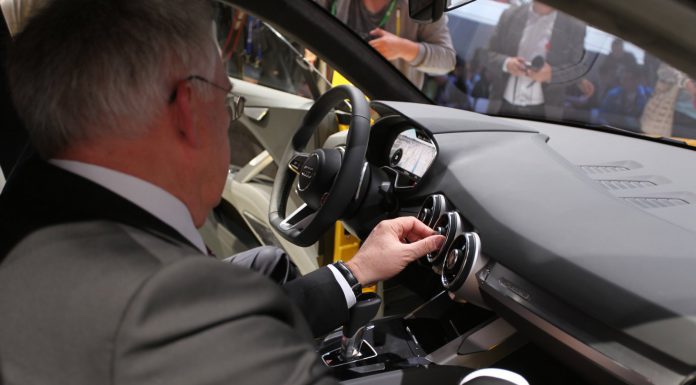 There is plenty more to learn about the Audi TT Allroad Concept. If you want to find out more take a trip over to our earlier article. For more news on the Beijing Motor Show 2014, take a look at our dedicated news channel!