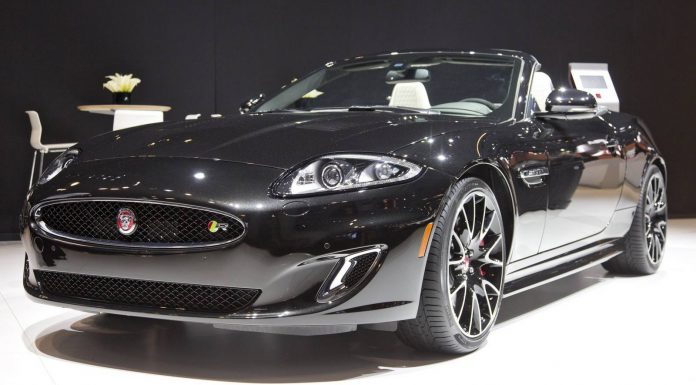 Last month, Jaguar launched the XK66 Special Edition limited to the German market as the British firm begins to wind down production of the XK due to increasing demand for the F-Type sports car. At the New York Auto Show 2014, Jaguar decided to reveal another special edition XK, this time dubbed the 2015 Jaguar XK Final Fifty Limited Edition for U.S. customers.
As the name suggests, just 50 examples will be produced, 25 of which will be coupes and 25 will be convertibles. More importantly however is the fact that the Jaguar XK Final Fifty Limited Edition is based around the Jaguar XKR so is extremely potent.
Under the hood, the XK Final Fifty Limited Edition is fitted with the XKR's supercharged 5.0-liter V8 engine delivering 510 hp and 461 lb-ft of torque from 2,500 rpm to 5,500 rpm. The car also features twin water-cooled intercoolers and when it is all said and done, the Jaguar XK Final Fifty Limited Edition will hit 100 km/h in just 4.6 seconds and a top speed of 280 km/h. It also comes standard with the normally optional Dynamic and Performance Packs
Alongside the XKR's engine, the Final Fifty Limited Edition also features the same adaptive chassis which incorporates Jaguar's Active Differential Control which optimizes the available traction at each rear wheel. The XK Final Fifty Edition has even borrowed components from the more exclusive XKR-S and XKR-S GT models including the former's front suspension and the latter's louvered hood and 20-inch forged wheels.
All examples will be painted in Ultimate Black.