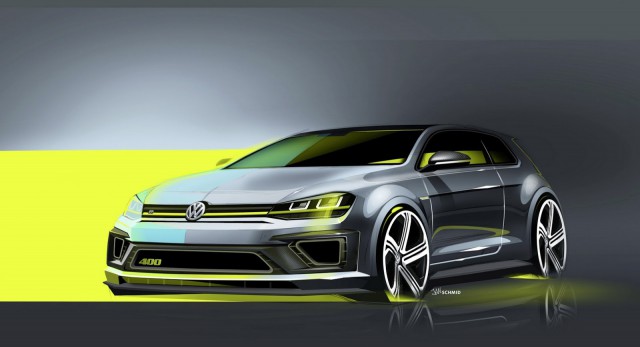 Prior to the Beijing Motor Show 2014 kicking off in the next few days, Volkswagen has confirmed and released the following sketches of the Volkswagen Golf R 400 Concept which will debut at the show. In recent months it has been speculated that this souped-up Golf R would instead be called the Golf R Evo.

As the name of the Volkswagen Golf R 400 Concept suggests, the car delivers a mighty 395 hp (400 PS). All of this power comes from the small, single turbocharged 2.0-liter four-cylinder engine and when all that power is sent through all four wheels, the Golf R Concept will reportedly hit 100 km/h in a brisk 3.9 seconds. Torque has also been significantly increased from the 280 lb-ft of the standard Golf R with it rising to 383 lb-ft. When it is all said and done, the VW Golf R 400 Concept tops out at 282 km/h.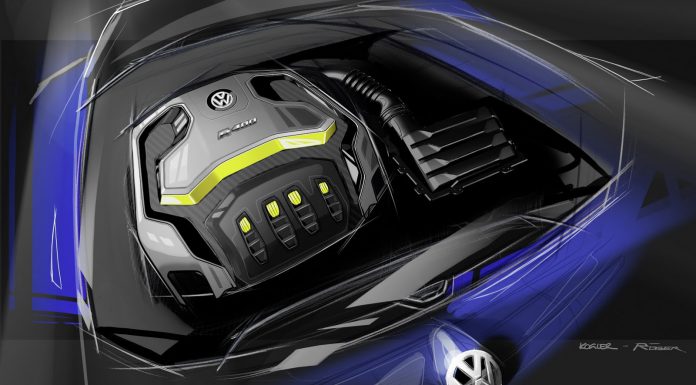 As the following sketches show, the Golf R 400 Concept also features a much more aggressive body than the standard Golf R. Most prominently, it features a revised front fascia with new air intakes and a redesigned front grille. It also features a bright yellow 400 logo up front. Elsewhere, widened wheel arches can be seen as well as new wheels.
Stay tuned to GTspirit in the coming days for more from the Beijing Motor Show 2014!