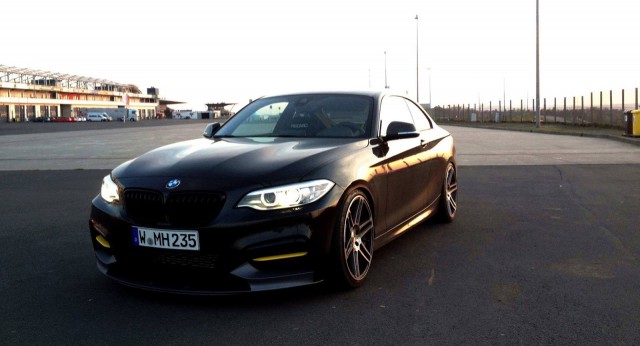 While the automotive world is hoping and praying for confirmation of a BMW M2, Manhart Racing has taken it upon itself to upgrade the fastest BMW 2-Series model there currently is; the BMW M235i.
While Manhart has yet to fully reveal its tuned M235i and will do so at Tuning World Bodensee at the start of May, it has confirmed that some pretty serious performance modifications have been installed.
[youtube]https://www.youtube.com/watch?v=wy0p9JNUSXo[/youtube]
As a matter of fact, Manhart has confirmed that its M235i will deliver in excess of 400 hp thanks to a modified variant of the turbocharged N55 inline-six cylinder from the standard car. When the BMW M235i leaves the factory, it delivers a still very respectable 320 hp and 330 lb-ft of torque and is fitted with an eight-speed automatic transmission.
While we eagerly await the debut of the Manhart M235i, the company has released a single image and a video showcasing the exhaust note to wet our appetite!