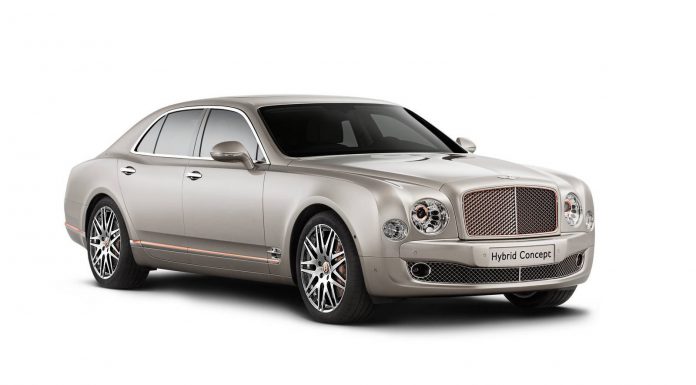 Bentley announced a Mulsanne-based Bentley Hybrid Concept due to be unveiled at the Beijing Motor Show 2014. The Bentley Hybrid Concept is the first Bentley to be fitted with a working plug-in hybrid system. As a result, it is the most expensive hybrid luxury limo!
Whilst the Bentley Hybrid Concept previews a new Hybrid system Bentley plans to adopt for its production cars, the press release is prefaced by the announcement that the system would first be available in 2017 for the upcoming Bentley SUV.
Bentley's plug-in hybrid system will offer a power increase of up to 25% together with a 70% reduction in CO2 emissions. It sounds as though the the hybrid will sit above the standard W12-powered car. The Bentley Hybrid Concept is also be capable of driving at least 50 km on electric power alone. Something that will excite city drivers.
The Bentley Hybrid Concept gets copper interior and exterior design elements included in the headlamps, radiator shell bezel, brake calipers, feature line details and badges. Inside, copper elements line the hand-crafted veneers, switch bezels and instruments. Copper cross‑stitching to the diamond-quilted interior finishes the electrical theme.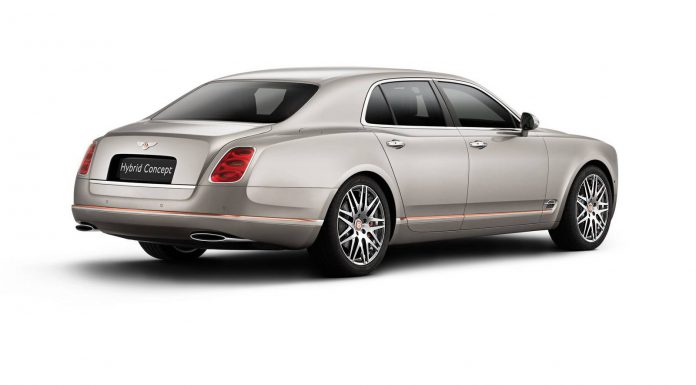 Dr Wolfgang Schreiber, Chairman and Chief Executive of Bentley Motors, comments:
"There is no doubt that plug-in hybrid technology is true to Bentley's values of outstanding luxury and effortless performance. Combining our renowned engines with electric power reinforces and enhances both principles, and so we will gradually introduce this powertrain across our model range. By the end of the decade, at least 90% of our production will be available as a plug-in hybrid. We are proud to be pioneering these developments in the luxury sector."
The Bentley Hybrid Concept will also is joined on the new Bentley show stand at Beijing by three other members of the road-car family. The new Flying Spur V8 makes its Chinese debut, the new Continental GT Speed as well as the new Continental GT V8 S. We will be there starting from the 20th April.