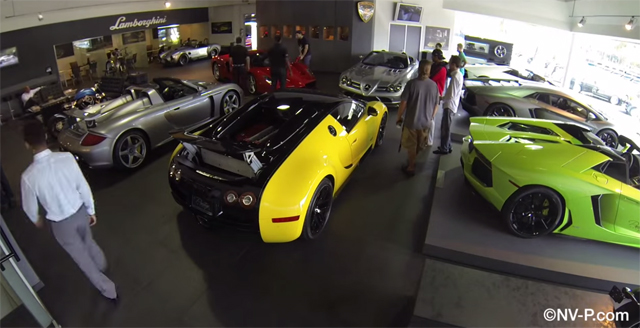 Prestige Imports, possibly best known as Lamborghini Miami, is a truly incredible exotic car dealership featuring cars that most can only dream of and only the wealthiest Miami residents can afford. Recently, the crew decided to gather some of the most expensive cars in its collection and stack them all into the showroom to create an $8.5 million dream room for auto enthusiasts like ourselves!
[youtube]https://www.youtube.com/watch?v=36ItAJL-2HU#t=251[/youtube]
The cars here are absolutely insane. There is the elusive and extremely rare 2013 Bugatti Pierre Veyron Grand Sport, a Ferrari Enzo, Mercedes-Benz SLR McLaren 722 S, Porsche Carrera GT, Lamborghini Aventador LP720-4 50th Anniversario, this Lamborghini Aventador Roadster with a Vorsteiner body kit, two other Aventador Roadsters, a 1965 AC Cobra, and finally, a Verde Ithaca Lamborghini Gallardo LP570-4 Performante!