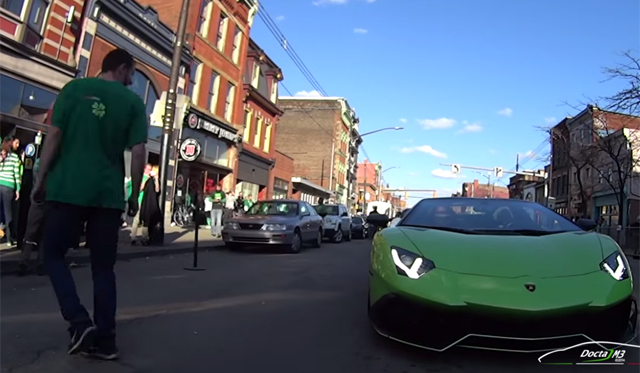 When owning a car as incredible as the Lamborghini Aventador Roadster LP720-4 50th Anniversario, you are bound to draw a lot of attention. What's more, when it is finished in Verde Ithaca like this example, the crowds gather no matter where you drive it!
This unique Aventador Roadster is owner by YouTube personality DoctaM3. The following entertaining video filmed on St. Patricks Day in the U.S. shows just how much attention this unique Aventador draws while driving with a Ferrari 458 Italia, Subaru BRZ and Honda S2000.
[youtube]http://youtu.be/B0uumH3F41o[/youtube]
The Lamborghini Aventador Roadster LP 720-4 50th Anniversario was announced at the Shanghai Motor Show 2013. Limited to just 200 units – 100 Coupe and 100 Roadster – the Anniversario has a raft of special features that distinguish it from the standard Aventador.
ECU tuning gives the car an extra 20 hp, bringing the 6.5 litre V12's power output up to 720hp. The car also features a redesigned front and rear bumper, giving the car a distinct new look.