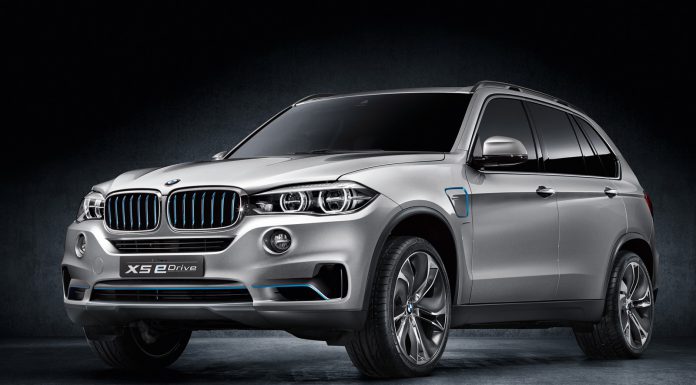 At the upcoming New York Auto Show 2014, the BMW stand will unquestionably be a key highlight. Most prominently, the BMW M4 Convertible will have its would debut alongside the new X4 and facelifted X3 while the Alpina B6 xDrive Gran Coupe will have its North American debut alongside the 4-Series Gran Coupe. Now it can be confirmed that an improved version BMW Concept X5 eDrive first presented at the Frankfurt Motor Show last September will also debut at the show.
BMW hasn't revealed any specific details about what distinguishes this refined version compared to last year's concept. However, it has said the car has "undergone a series of detailed refinements".
As for the X5 eDrive from last year, it features a four-cylinder, TwinPower turbocharged petrol engine mated to an additional 94hp electric motor. That electric engine is then mated to a lithium-ion battery. As a result of these systems, BMW claims that the BMW Concept X5 eDrive can achieve up to 74mph and run for up to 19 miles solely on battery power. What's more, the BMW Concept X5 eDrive can hit 100km/h in less than 7 seconds which is quite impressive for a car of this size and efficiency.
As with all hybrid production cars, the BMW X5 Concept eDrive can be charged from any domestic power outlet. The battery can be found mounted under the boot floor.
BMW claims the Concept eDrive produces under 90g/km of CO2 and by the time such a powertrain goes into production, it's hoped that figure will be closer to 50g/km. Sources state a production ready system is still two years away and is expected to arrive in time for the 2016 BMW 5-Series.