Back in February, Rolls-Royce previewed the upcoming Phantom Drophead Coupe Bespoke Waterspeed Collection for the very first time. As a run of 35 35 Rolls-Royce Phantom Drophead Coupés, the cars will celebrate the battle between the United States and Great Britain to be the fast nation of water.
Previously, just coloured sketches of the upcoming Rolls-Royce Phantom Drophead Coupe Bespoke Waterspeed Collection were revealed but now a couple new images have been released by Rolls-Royce showing parts of the impressive car in the flesh. Most notable is just how incredibly vibrant the unique shade of blue is and when contrasted with the brushed aluminium finish on the bonnet, there's no doubt the Drophead Coupe Waterspeed Collection will look incredible in the flesh!
On the morning of 1 September 1937, Sir Malcolm Campbell headed out onto the calm blue waters of Lake Maggiore on the Swiss-Italian frontier. He took the wheel of his Bluebird K3 hydroplane boat, powered by a Rolls-Royce's R-Type engine, and set a record of 126.32 mph.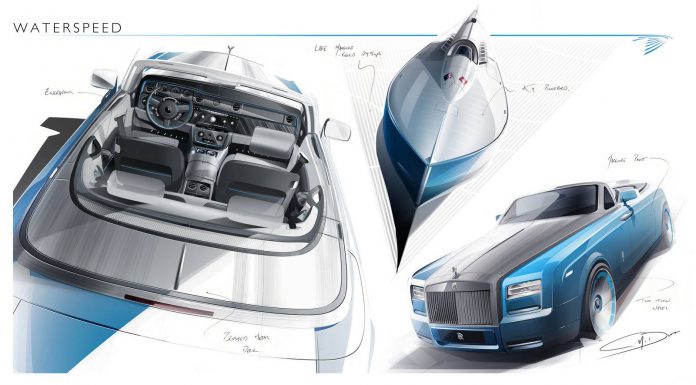 The following day he went one better, piloting his Bluebird K3 to 129.5 mph, breaking the United States' five-year stranglehold on the world waterspeed record. The Rolls-Royce Phantom Drophead Coupe Bespoke Waterspeed Collection gets brushed steel and a Maggiore Blue colour scheme whilst hand-crafted wood inlays evoke the sense of a boat effortlessly gliding through water at pace.