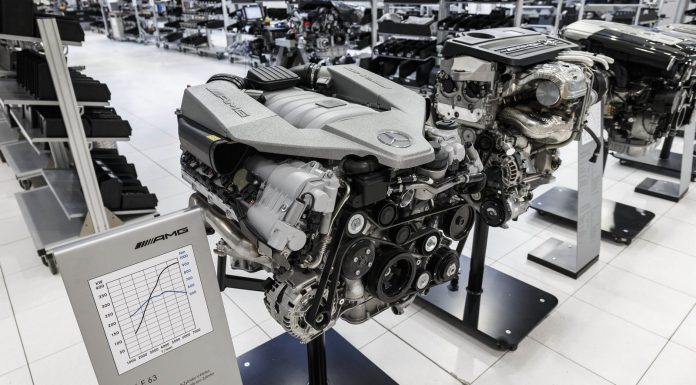 In just a few short months, the 2015 Mercedes-Benz C63 AMG will be revealed. Obviously, a Black Series will be available down the road, but now new rumours have emerged suggesting that a more potent S variant will also be offered.
Starting off with the standard C63 AMG, it will feature a 4.0-liter twin-turbocharged V8 engine delivering around 480 hp. That is about 50 hp more than both the BMW M3 and M4. This power would of course be sent to the rear wheels interestingly through a single-clutch automatic transmission instead of a DCT.
As for the Mercedes-Benz C63 AMG S, it will likely feature comparatively similar upgrades as the E63 AMG S over the standard E63 AMG. Consequently, upgraded brakes, more power and new visual modifications on the exterior and through the interior are all likely.
Additionally, it can be pretty much confirmed that AMG variants of the new C-Class sedan, coupe, station wagon and for the first time, convertible will be offered. Of course, the new Mercedes-Benz C63 AMG whether in S guise or not, will feature a host of visual enhancements when compared to the standard C-Class.
These will include new bumpers front and rear, a squared off quad exhaust system, flared arches and bigger wheels.
It is believed the new 2015 Mercedes-Benz C63 AMG will be unveiled at the Paris Motor Show 2014 this coming October.
[Via Left Lane News]