Lewis Hamilton has once again claimed pole position for tomorrow's Malaysian Grand Prix at the Sepang International Circuit. This is his second straight pole win, repeating his performance in Melbourne. Mercedes-Petronas is on a winning streak- not only did they dominate the qualifying session but also the entire free practice sessions.
Hamilton kicked off by dominating the first free practice session while his teammate Nico Rosberg set the fastest time in the remaining sessions. Come Q1, the weather closed in and the rain made it hard for the drivers to start the session. As a result Q1 was delayed by 35 minutes, but it was Rosberg who would go ahead to set the fastest time with a 1m 57.183s while Hamilton followed him with 1m 57.202s. Red Bull's Sebastian Vettel, meanwhile finished in third with 1m 57.654s.
There was even more rain at the beginning of Q2 and this saw Lotus's Pastor Maldonado out of the race after a 2m 02.074s lap. All drivers went for full wets except for the Ferrari duo of Kimi Raikkonen and Fernando Alonso as well as Williams' Valtteri Bottas. A misjudged tactic which would later cost them valuable time, Alonso collided with Toro Rosso's Daniil Kvyat at turn 9 while going to get wet tires, the session was red-flagged. Luckily his team fixed his broken suspension in time before the session resumed.
The top three finishers from Q2 still revolved around Mercedes and Red Bull; this time Hamilton was first with a 1m 59.041s while Vettel finished in second with a time of 1m 59.399s and Rosberg in third with a time of 1m 59.445s. Q3 was no different as the teams gambled on what tires to use due to the ongoing rain, McLaren went for intermediates but Magnussen changed to wet while Button stuck to the former.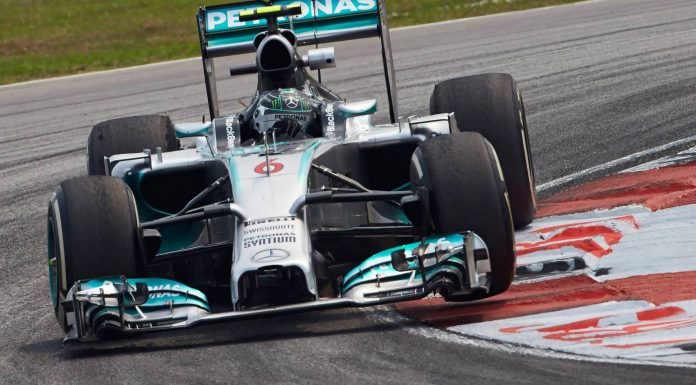 Q3 was much slower than the first two sessions, Ferrari's Raikkonen set the initial pace with 2m 01.218s which was edged out by Hamilton's 1m 59.431s. Behind them, Rosberg was coming in hot and jumped to second with a time of 2m 00.180s. Vettel then beat Rosberg's time with a quicker 1m 59.486s pushing him to third which he had to fight for as Alonso was also eyeing on the same position.
There are still ongoing investigations against Alonso and Kvyat due to their Q1 crash but as of now the grid for tomorrow's race looks as follows:
1. Hamilton, Vettel;
2. Rosberg, Alonso;
3. Ricciardo, Raikkonen;
4. Hulkenberg, Magnussen;
5. Vergne, Button;
6. Kvyat, Gutierrez;
7. Massa, Perez;
8. Bottas, Grosjean;
9. Maldonado, Sutil;
10. Bianchi, Kobayashi;
11. Chilton, Ericsson.