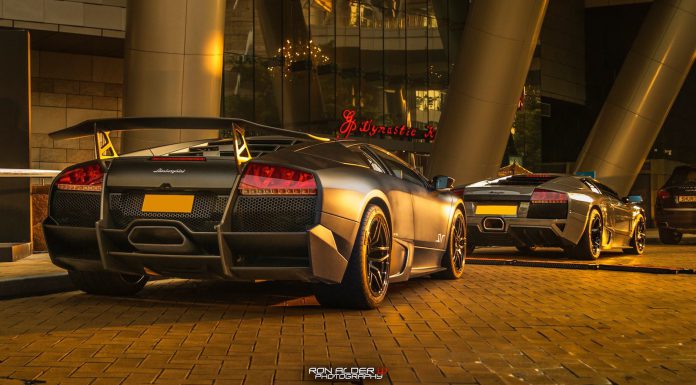 The Lamborghini Murcielago is no more, its crown as the V12 bearer for the Italian marque was passed onto the leaner, meaner and faster Aventador in 2011. We loved the Murcielago here at GTspirit and todays Photo of The Day features two of our favourite Murcielago's. The standard first generation Murcielago was produced between 2001 and 2006. Its V12 produced 572 hp which meant to would hit 100 km/h in just 3.8 seconds.
In 2006 the LP 640 burst onto the scene with its revised styling, cabin and engine that made the entire Murcielago package a lot more desirable! This was mainly due to the introduction of the rather impressive e-Gear automated sequential transmission with launch control and carbon ceramic brakes. The car produced 631 hp and would smash through 100 km/h in a smudge over 3 seconds! Finally came the Murcielago's swan song, the final version and the best of all, the SV. Featuring a modified 6.5-liter V12 engine pumping out an insane 662 hp, the Lamborghini Murcielago LP670-4 SV can hit 100 km/h in just 3.2 seconds!
Hong Kong based photographer, Ron Alder, captured this awe-inspiriting image which captured both the LP 640 and SV in the sunset!