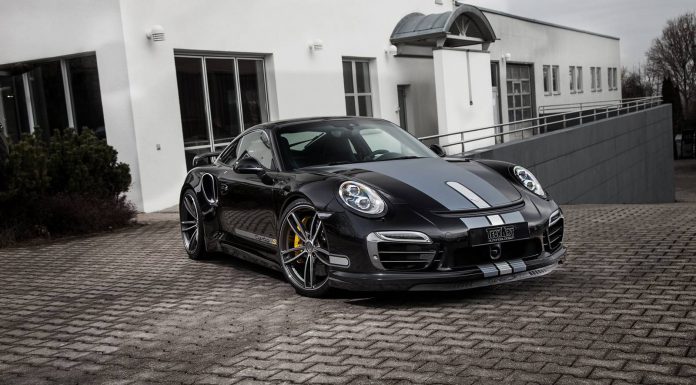 Following the initial reveal of the updated 2014 Porsche 911 Turbo S package by TechArt, a stunning black and silver example has been spotted out in the wild.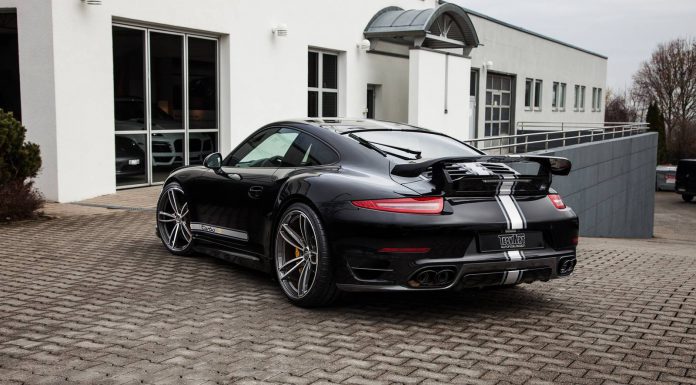 Unlike the initial press and show car which featured a white paint job contrasted with a bright blue racing stripe down the centre, this car TechArt Turbo S is black with a solid silver stripe stretching from the front bumper to the rear diffuser. It is very likely that this is the same example which was presented at the recent Geneva Motor Show 2014.
Under the hood, it features a new power kit dubbed the TA 091/T1.1. As standard, the Porsche 991 Turbo S delivers 560 hp and 700 Nm of torque with 750 Nm available with overboost in Sport and Sport Plus modes. TechArt's TA 091/T1.1 program delivers increases of 60 hp and 130 Nm over these figures. This means that the 3.8 litre 6-cylinder Bi-Turbo engine produces 620 hp and up to 880 Nm of torque in total.
The power is activated by pushing the Sport or Sport Plus button on the center console. This allows the TechArt Porsche 991 Turbo S to utilise the extra power easily and quickly. Thanks to four-wheel drive, the TechArt upgrades accelerate the 991 Turbo S from 0 to 100 km/h in 2.8 seconds and on to a top speed of 328 km/h. The TechArt power kits are backed by a two-year limited warranty.