As it stands, the standard Mercedes-Benz A 45 AMG along with its CLA 45 AMG and GLA 45 AMG siblings, features the second most power dense engine in the world. Only surpassed by the 3.8-liter twin-turbocharged V8 from the McLaren P1, the A 45 AMG delivers 360 hp and 450 Nm of torque from its small 2.0-liter turbocharged four-cylinder engine.
However tuner Posaidon thought there was extra power to be had from this small engine and have consequently just revealed their three engine upgrade packages for the German hot hatch. Stage 1 sees power of the A 45 AMG rise to 385 hp and 485 Nm of torque. However, this power upgrade stage pales in comparison to what else Posaidon have done.
In Stage 2, another 20 hp is added bringing the total figure up to 405 hp and 490 Nm of torque. Finally, the Stage 3 kit sees power rise to an atmospheric 445 hp and 535 Nm!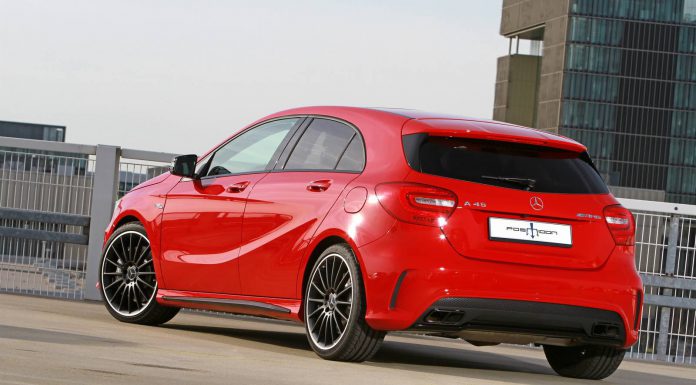 In order to achieve these power gains, Posaidon simply tweaks the standard ECU of the A 45 AMG to extract maximum power out of its small engine. Additionally, the tuners have deactivated the electronic top speed meaning in top specification, the Mercedes-Benz A 45 AMG by Posaidon can sprint to over 300 km/h!
Next year, Posaidon will release a complete exhaust system for the A 45 AMG, CLA 45 AMG and GLA 45 AMG. The aforementioned upgrade packages are also available for the CLA 45 AMG and GLA 45 AMG.