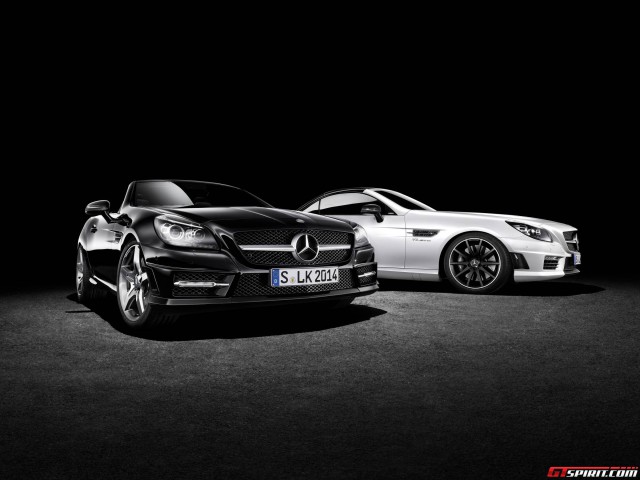 Mercedes-Benz has quietly introduced one new variation of the popular SLK sports car along with one new version for the higher-end SL. The first, dubbed the Mercedes-Benz SLK Carbon Look Edition adds a selection of new visual tweaks to the standard SLK while also providing some basic performance improvements. Similarly, the Mercedes-Benz SL 2LOOK Edition largely focuses on the aesthetics of the car.
Starting with the SLK Carbon Look Edition, it features a redesigned front bumper with more prominent air intakes as well as larger side skirts and a sharper and much more aggressive rear bumper and diffuser. Additionally, the Mercedes-Benz SLK Carbon Look Edition features sporty five-spoke AMG light-alloy wheels finished in titanium grey along with tinted headlights and a selection of new aluminium accents.
From a performance standpoint, the SLK Carbon Look Edition receives lowered suspension which drops the ride height by 10 mm. It also features cross-drilled front brake discs. In the cabin, the SLK Carbon Look Edition features leather seats finished in black design nappa and titanium grey pearl. Moreover, bright green contrasting stitching makes sure that the Carbon Look Edition stands out from other SLK models. The package is available for the SLK 200, SLK 250, SLK 350, SLK 250 CDI and the range-topping SLK 55 AMG with pricing starting at 55,300 euros.
As for the Mercedes-Benz SL 2LOOK Edition is receives a new roof finished in gloss black which contrasts with the four exterior colour options. These are designo magno kasjmierwit, design diamond white, tenorite (dark silver) and iridium silver. The car also features 19-inch alloy wheels with seven-spoke AMG wheels also being available.
Inside, the SL 2LOOK Edition features black and white nappa leather and a black piano lacquer finish on areas of the dash. Pricing for the SL 2LOOK Edition starts at 117,855 euros.