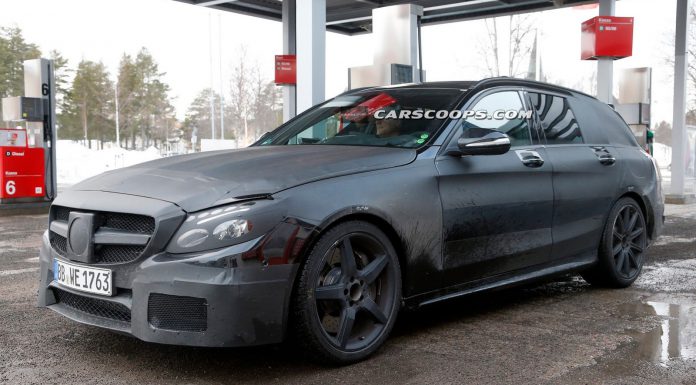 It is certainly no secret that the next-generation Mercedes-Benz C63 AMG is being tested in all corners of the globe. Recently, spy shots emerged showing a prototype with minimal camouflage and now, the first spy shots of the impending Estate variant have been revealed.
From a styling perspective, the Mercedes-Benz C63 AMG Estate will be virtually identical at the front end to the sedan and coupe variants. However, at the rear, it will feature a redesigned bumper, quad exhaust pipes as well as an aggressive carbon fiber rear diffuser. It is worth noting however, that the standard 2015 C-Class Estate has yet to be revealed, but prototypes have showcased that the estate will feature more horizontal taillights than the sedan.
Mechanically the C63 AMG Estate will remain identical to the sedan. Under the hood, it will receive a 4.0-liter twin-turbocharged V8 engine in favour of the naturally-aspirated 6.2-liter V8 currently used. This new engine will continue with Mercedes-Benzes introduction of smaller capacity engines and will eventually replace the current 5.5-liter twin-turbo. For those that didn't know, the AMG 6.2-liter V8 engine has been largely phased out and replaced by the 5.5-liter powertrain.
Currently codenamed M177, the new 4.0-liter twin-turbo V8 is predicted to produce between 454 hp and 493 hp depending on the specification ordered. It will then be mated to the 7G-MCT SpeedShift automatic transmission currently used in a selection of other AMG models.
[Via Carscoops]