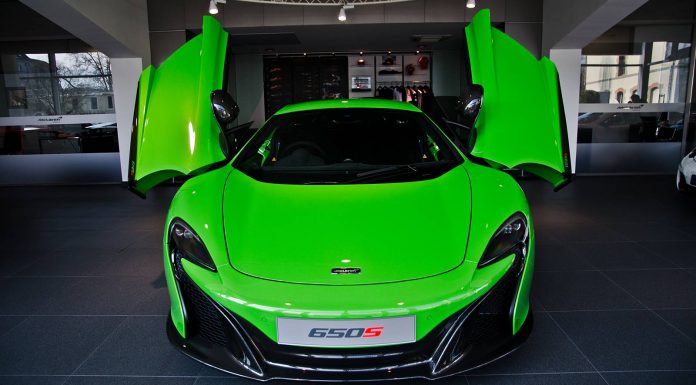 One of the big releases at the Geneva Motor Show 2014 was the McLaren 650S. Far from being a mild McLaren 12C update, the McLaren 650S cranks the platform up to a whole new level. The cars front end is radically redesigned, evidently inspired by the rather smiley face of the P1 hypercar.
Whilst the car was being officially unveiled to the public at the show in Switzerland, another 650S was being uncovered in Geneva, this time at the Swiss showroom. As you can see, the car is certainly very bright in this Lamborghini-esque shade of green.
The 3.8 litre McLaren V8 gets a 25 hp boost and an extra 80 Nm of torque for a total output of 650 PS and 678 Nm of torque. From 0-100 km/h now takes just 3.0 seconds and 0-200 km/h (125 mph) only 8.4 seconds. It will hit a top speed of 333 km/h (207 mph) and a set of carbon ceramic brakes provide the extra stopping power.