For any Pagani fans out there, you'll know all too well about the bright green Pagani Zonda Cinque and bright orange Cinque produced a few years ago. Unquestionably the most eye-catching Cinques ever produced by Pagani, both currently reside in Hong Kong.
In a first, our good friend Ron Alder W Photography managed to snap these two incredible Pagani Zonda Cinques together at famous Hong Kong exotic car dealer SPS Automotive Performance. Alongside a Pagani Zonda R also on display, three of the most exclusive, most sought after and most desirable Paganis ever manufactured were photographed together.
The green example is chassis number 5 of 5 for the Cinque coupe. It was produced in 2010 and features bright green paint instead of the white with red accents on the 'regular' Zonda Cinque. The orange Zonda Cinque on the other hand is number 3 of 5 and was made in 2009. Like the green example, it is rarely seen but is more commonly seen in Hong Kong than the green Cinque.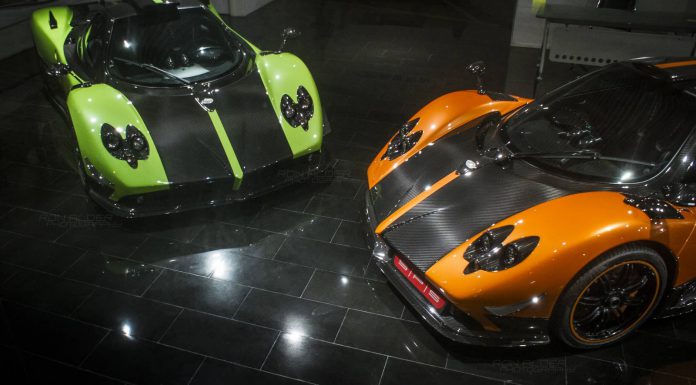 To help remind you, the Pagani Zonda Cinque features a revised 6-speed sequential transmission, a more powerful 7.3-liter V12 engine now delivering 669 hp along with revised aerodynamics including a massive rear wing and large carbon fiber front splitter.
After the Pagani Zonda Cinque coupe, five Roadster examples were produced.