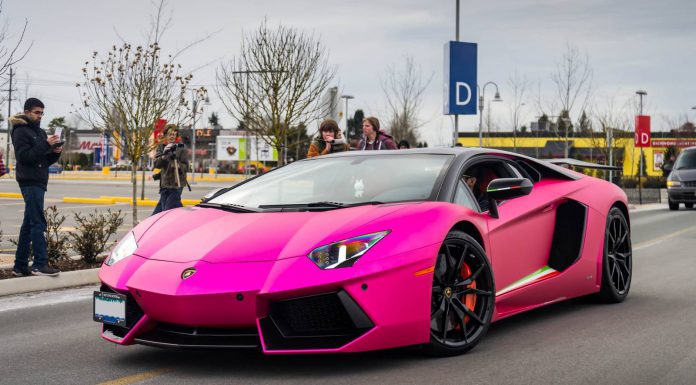 The Lamborghini Aventador is one of the defining cars over the last 5 years. Its purposeful looks, aggressive engine howl and huge rear tyres just hint at the power and speed of this Italian Bull. Many owners have specced their cars in traditionally stunning Lamborghini colours such as Verde Ithaca, Giallo yellow and Arancio Argos. With the menacing looks of the Aventador now more cars are being seen in matte black and other darker shades.
Here we have an example of a very bright 'Matte Chrome Pink' Aventador complete Italian Tricolore stripes above the side-skirts. To finish off the attention grabbing look, the car has been fitted with a huge wing that reminds us a little of the old Murcielago SV!
Just to refresh your memory, the Aventador features a new 6.5 liter V12 engine that produces 700 hp at 8,250 rpm and 690 Nm of torque at 5,500 rpm. Using thrust mode – Lamborghini's version of launch control – allows you to reach 100 km/h in less than three seconds, 2.9 to be precise and 0-200 km/h is done in a staggering 8.9 seconds flat. In the right environment you will keep accelerating all the way up to 351 km/h and pull 1.3 G when braking from 100-0 km/h. Phenomenal figures indeed!