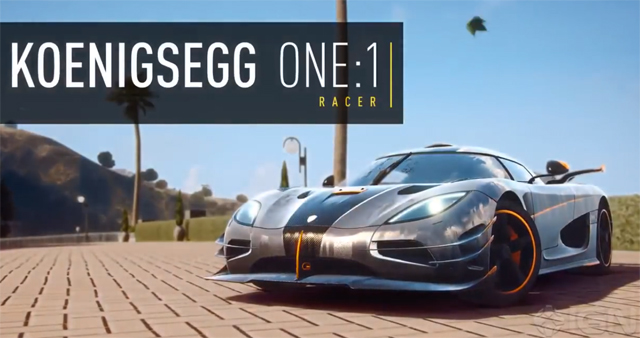 Just a few days after the Koenigsegg One:1 was revealed, the so called 'megacar' is already available as downloadable content for Need for Speed Rivals. To help celebrate the launch of the new Swedish hypercar, the following gameplay trailer of the One:1 has been released. Notably, the DLC for the One:1 is completely free of charge!
[youtube]https://www.youtube.com/watch?v=VKS6N0gctSE[/youtube]
Power figures for the car are truly incredible. Koenigsegg quotes 1 Megawatt of power (1,341 hp) and an 8,250 rpm rev limit. Torque is rated at 1371 Nm from 6000 rpm. Total weight is just 1,360 kg which is based on the complete car ready to drive with 50% fuel, 100% fluids and without the driver taken into account. This is a total weight saving of just over 70 kg on the Agera R. As a result, the Koenigsegg One:1 is said to achieve a perfect 1 horsepower to 1 kilogram power to weight ratio.
In terms of aerodynamics, the Koenigsegg One:1 features a massive carbon fiber front splitter as well as four prominent carbon fiber canards. New vents in the bonnet expel air much quicker and channel it around the roof-mounted air intake. The rear wing is quite frankly absurd! It all helps to produce a total downforce at 260 km/h equal to 610 kg whilst at 440km/h, the One:1 develops 830 kg of pressure. Active aerodynamics help tweak the downforce to suit the situation.