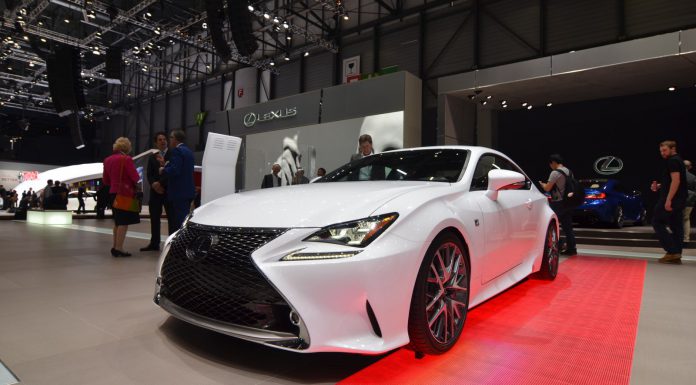 Sitting between the range-topping RC F and the entry-level RC 350, the Lexus RC 350 F Sport is currently on display at the Geneva Motor Show 2014. Combining more aggressive looks than the standard car yet not as outlandish as the RC F's, the Lexus RC 350 F Sport provides the perfect middle ground. We decided to take a closer look at this sexy Japanese coupe.
Under the hood, it is powered by a V6 engine delivering a total of 306 hp at 6,400 rpm and 277 lb-ft of torque at 4,800 rpm. For the keen Lexus enthusiasts out there, you'll notice that that is exactly the same amount of power as the standard RC 350, so what exactly does the RC 350 F Sport add?
Well, the most apparent performance change is the new Adaptive Variable Suspension (AVS) system. AVS automatically adjusts the damping performance of all four wheels in response to the conditions and driving inputs. For example, when SPORT+ is enabled, the Adaptive Variable Suspension system improves steering response while helping the RC 350 F Sport to hug corners just that little bit better.
Additionally, the RC 350 F Sport features four-wheel steering courtesy of the Lexus Dynamic Handling (LDH) system. Combining Dynamic Rear Steering and Variable Gear Ratio Steering, this system adjusts the angles of all four wheels depending on vehicle speed, steering direction and driver inputs. Additionally, this system works similarly to the one from the latest Porsche 911 GT3 where the front and rear wheels turns in opposite directions at low speed and in the same direction at higher speeds.

If you want to read more about the Lexus RC 350 F Sport, check out our earlier article. Let us know what you think of the car in the comments box below. For full Geneva Motor Show 2014 coverage, check out our dedicated channel!