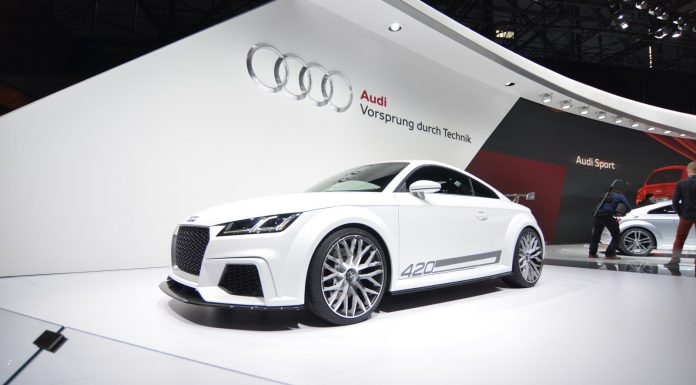 In addition to the reveal of the latest Audi TT and Audi TTS at the Geneva Motor Show 2014, the awesome Audi TT Quattro Sport Concept was also revealed. While it is just a concept at the moment, it is very exciting indeed with a heavily modified engine as well as a host of visual tweaks differentiating it from the standard car. We went in for a closer inspection.
Under the hood, the Audi TT Quattro Sport Concept features an upgraded turbocharged four-cylinder engine delivering an incredible 420 hp at 6,700 rpm and 331 lb-ft of torque between 2,400 and 6,300 rpm. This equates to an amazing 207 hp per liter. As a result of this, it is predicted that the TT Quattro Sport Concept can reach 100 km/h in a sprint from zero in just 3.7 seconds. That is supercar territory!
This potent engine is then mated to Audi's S-tronic dual-clutch transmission driving all four wheels. Despite the extra add-ons such as the new wing, the Audi TT Quattro Sport Concept weighs a mere 1,344 kg and also features lowered suspension when compared to the standard Audi TT.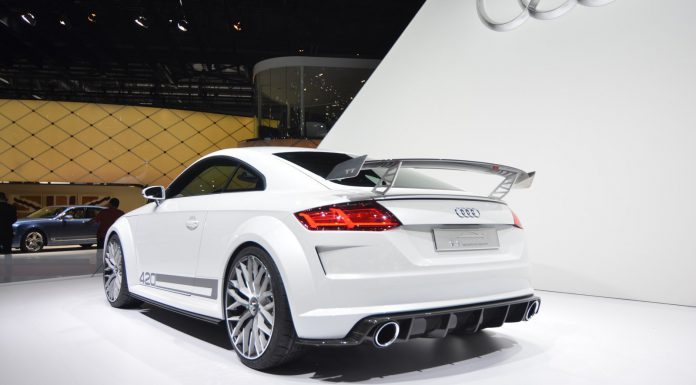 From a visual standpoint, there is no mistaking the TT Quattro Sport Concept for the 'normal' third-generation Audi TT. It features a revised front grille, modified air intakes, a more prominent front splitter, 20-inch alloy wheels as well as an extremely aggressive carbon fiber rear diffuser. Additionally, the Audi TT Quattro Sport Concept features a fixed rear wing and '420' livery.
As it stands, Audi has yet to reveal if the Quattro Sport Concept will make it into production. However, if it did, it could really pave the way for rival companies to offer similar sports cars with near supercar acceleration and cornering capabilities. That is something we can all get very excited about!

For full Geneva Motor Show 2014 coverage, check out our dedicated channel!