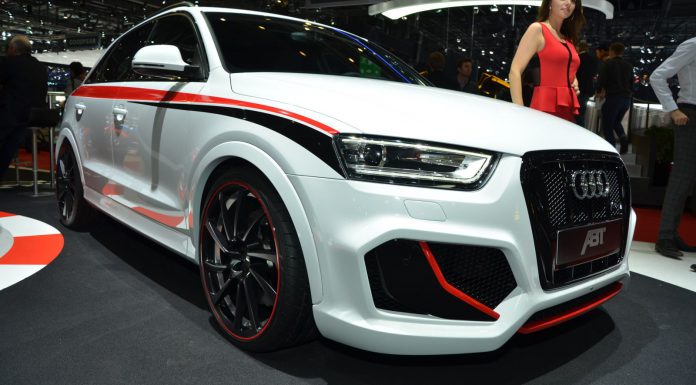 The ABT Audi RS Q3 has been officially uncovered at the Geneva Motor Show 2014. The ABT Audi RS Q3 gets an impressive power update as well as some choice aerodynamic updates and a slight ABT touch to the interior. We took a closer look at this pocket rocket on the show floor!
The 2.5 litre five-cylinder engine gets a 32% increase in power up to a lofty 410 hp and 530 Nm. ABT call it their new generation power kit. The kit manages 100 hp extra over the serial unit.
The rest of the package includes a new set of aerodynamics. The front features a new skirt and ABT front grille. At the rear there is a new rear skirt set and a quad-tailpipe stainless steel exhaust system. The bodywork of the ABT car also gets a decal set.
ABT also fits a set of its own ABT DR-Design in 9 x 21 inch fitiments with 255/30 R21 sports tyres. The exhaust system is redesigned from the middle back. ABT fit a height adjustable suspension system and, inside, they offer a set of ABT floor mats among other options.

For more details on the ABT Audi RS Q3, take a look at our earlier article. For more Geneva Motor Show 2014, take a look at our dedicated news channel.